Richards D. Barger, a former insurance commissioner and a former president of the National Association of Insurance Commissioners, died on Sunday.
The cause is not yet known. He was 87.
Barger, who went by the name Dick, devoted his practice to insurance services, with an emphasis in the formation, merger and acquisition of insurance companies, according to the website for Hinshaw & Culberston LLP, where he served as a partner emeritus.
Barger had a distinguished legal career that spanned more than six decades, and was well-known in insurance circles.
In 1968 Barger was appointed by then-governor Ronald Reagan as a California insurance commissioner. This was before the office of commissioner became an elected post. Barger held the post from 1968 to 1972.
Barger was a member of the board of regents for Indiana University, from which he received his B.S. in 1950. Barger received his law degree from the University of Southern California School of Law in 1953.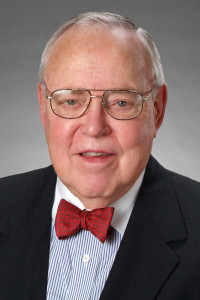 Barger became a partner at Hinshaw & Culbertson in October 2014 as a result of the merger of Hinshaw and the Los Angeles-based firm of Barger & Wolen LLP, of which Barger was a founding partner.
Longtime law firm partner Robert W. Hogeboom remembered Barger for his patient tutelage and insurance knowledge.
"I worked with Dick Barger for 35 years," Hogeboom said in a statement. "He mentored me and then others in the law firm as well. He was one of the most renowned figures in the insurance field of law. His love was the firm and he set the high standards that we all aspire to follow in our practice. His knowledge and enthusiasm will be missed by all."
Bill Bolton, of Pasadena-based Bolton & Co., was a close friend of Barger's for years.
"I knew Dick from living in San Marino together," Bolton said. "Our wives served on a charity board together. Bolton & Co. used Dick's firm for various insurance matters, but mostly for the formation and running of our captive insurance companies."
He also called Barger "the last, great insurance commissioner."
"He was a leader and knew insurance, so he was effective in getting things done right," Bolton said.
A memorial service and celebration of Barger's life is scheduled for 1 p.m. on Jan. 25 at the Church of Our Savior in San Gabriel, Calif. In lieu of flowers, those wishing to do so can send contributions in Barger's name to the Indiana University Foundation or the Delta Tau Delta Educational Foundation.
Topics California
Was this article valuable?
Here are more articles you may enjoy.