A Portland, Ore.-based electricity provider that fired the contractor building its natural gas plant in Boardman is suing the backers of a bond guaranteeing construction.
The East Oregonian reported Portland General Electric filed the lawsuit March 23 against Liberty Mutual Surety and Zurich North America, the backers of the plant's $145.6 million performance bond.
Both insurers named in the lawsuit deny liability. The contractor's parent company says the contract was wrongfully terminated.
PGE's lawsuit says the company has found potentially dangerous defects since taking over construction of the Carty Generating Station in December.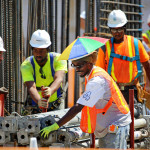 The lawsuit also says subcontractors have asserted almost $30 million in claims against the project for work that went unpaid by contractor Abeinsa, a subsidiary of Spanish energy firm Abengoa.
PGE is seeking $180 million in damages.
Copyright 2021 Associated Press. All rights reserved. This material may not be published, broadcast, rewritten or redistributed.
Topics Lawsuits Oregon Construction
Was this article valuable?
Here are more articles you may enjoy.