Representatives of a man shot and killed after he broke into a Helena, Mont. home have filed a wrongful death lawsuit against the shooter.
The Independent Record reported that the suit filed on behalf of the estate of Henry Thomas Johnson seeks damages for claims of negligence, wrongful death and infliction of emotional distress. The plaintiffs are Roxeen and Byron Wieder, the guardians of Johnson's daughter.
The complaint alleges James George Stiffler shot Johnson in the back as he was running away.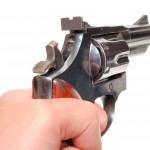 A deliberate homicide charge against Stiffler was dropped in February after a Lewis and Clark County jury was unable to reach a verdict.
Stiffler testified he shot Johnson as he moved toward him threateningly and that he feared for his life. He hasn't yet responded to the suit.
Copyright 2021 Associated Press. All rights reserved. This material may not be published, broadcast, rewritten or redistributed.
Topics Lawsuits
Was this article valuable?
Here are more articles you may enjoy.