California health inspectors dispatched to two Los Angeles hospitals following "superbug" outbreaks involving a hard-to-clean medical scope found numerous safety violations that appeared to put more patients at risk.
The Los Angeles Times reported that the state declared an "mmediate jeopardy" – meaning lives were at imminent risk – on March 4, 2015 at UCLA Ronald Reagan Medical Center. Inspectors found staff using contaminated water and a tainted liquid cleaner dispenser being used to ready medical devices.
The immediate jeopardy ruling was used again three weeks later at Cedars-Sinai Medical Center, where inspectors found ineffective sterilization and storage of instruments.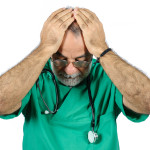 Both hospitals quickly fixed the problems. The "immediate jeopardy" was lifted after just hours at UCLA and a day at Cedars. On follow-up visits, the state found the problems had not continued.
Related:
Copyright 2021 Associated Press. All rights reserved. This material may not be published, broadcast, rewritten or redistributed.
Was this article valuable?
Here are more articles you may enjoy.