The husband of a Portland, Ore. woman killed when a tree slammed into their house has filed a wrongful death lawsuit against the owners of the home next door.
The lawsuit states that Dennis Elleson feared the Douglas fir would fall on his place, and asked for it to be removed in early 2015.
The tree stood until December, when it crashed through the roof during a massive rainstorm and pinned Roberta Elleson while she was in bed. Besides her husband, she was survived by her three adult children and five grandchildren.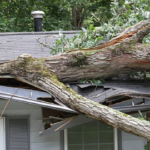 The lawsuit filed last week in Multnomah County seeks $3 million. The defendants could not immediately be reached for a response.
Copyright 2021 Associated Press. All rights reserved. This material may not be published, broadcast, rewritten or redistributed.
Was this article valuable?
Here are more articles you may enjoy.