Authorities say a worker who died last week after falling from a catwalk at the Amazon distribution center in Phoenix, Ariz. had a preexisting medical condition.
Phoenix police say the incident occurred about 1:15 a.m. Friday.
The woman was pronounced dead at the scene by Phoenix Fire Department paramedics.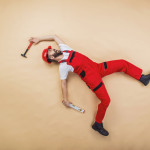 Her name hasn't been released.
Police say the Maricopa County Medical Examiner's Office will try to determine the cause of death.
Copyright 2021 Associated Press. All rights reserved. This material may not be published, broadcast, rewritten or redistributed.
Was this article valuable?
Here are more articles you may enjoy.