The Los Angeles area continues to be a drag on California's overall workers' compensation costs, according to a study out today from the Workers' Compensation Insurance Rating Bureau.
The WCIRB's study on regional differences in California workers' comp claim costs and frequency is titled: "The 2016 Study of Geographic Differences in California Workers' Compensation Claim Costs."
The study, which controls for wage level differences and industrial mix, includes nine maps illustrating regional differences. Click here to be taken to a portal where the map can be downloaded.
Key findings of the study include:
The Los Angeles/Long Beach area continues to show higher indemnity claim frequencies than the rest of California, while the Silicon Valley region continues to show lower indemnity claim frequencies.
The median permanent disability rating is higher in northern regions of California than in the central and southern regions.
The Los Angeles/Long Beach Area is the most litigious region in California. Medical legal costs are over 2.8 percent of total incurred costs on indemnity claims in the Los Angeles/Long Beach area compared with 2.0 percent statewide.
Pharmaceutical spending as a percentage of total medical costs also varies by region.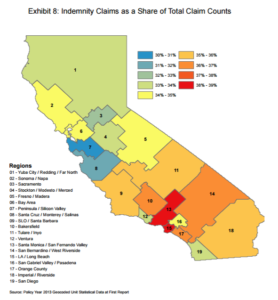 Even after controlling for wage level and industrial mix, significant differences among California regions were observed in the study.
Indemnity claim frequencies in the Los Angeles/Long Beach area were 24.0 percent higher than statewide, while indemnity claim frequencies were 25.8% lower than statewide in Silicon Valley.
"The Los Angeles/Long Beach area has the highest share of indemnity claims, 39.0 percent, compared to a statewide average of 35.2 percent, and the highest share of all claims that are cumulative trauma, 8.3 percent, compared to a statewide average of 5.2 percent at first report," the study states.
Topics California Workers' Compensation
Was this article valuable?
Here are more articles you may enjoy.