The former chief financial officer of a chain of medical clinics in Washington and Idaho has been awarded $1.9 million after claiming he was fired for refusing to file fabricated financial reports.
Gregg Becker was the CFO of Rockwood Clinic, which has a dozen primary care clinics and other specialty clinics in the Spokane and Coeur d'Alene areas, The Spokesman-Review reported.
Becker sued in 2012, saying he was fired when he refused to rework his projections of the company's losses that year. He estimated the losses at $12.8 million, but he said the company tried to bully him into lowering the figure to $4 million.
In a ruling last week, U.S. Department of Labor administrative law judge Christopher Larsen awarded him $1.9 million, saying Becker had been "ignored, pleaded with and cajoled" to use the lower number.
"Nobody appeared concerned that he had no reasonable basis for approving the figure and an entirely reasonable basis for rejecting it," Larsen wrote. "This is not a simple disagreement over company policy or a matter of different philosophies about the best way to do business. This is a dispute going to the very heart of what it means to be the Chief Financial Officer of an organization which is a component of a publicly-traded business."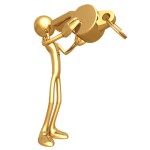 Stellman Keehnel, a lawyer for Rockwood Clinic's parent company, Tennessee-based Community Health Systems, said he was disappointed in the ruling and expects an appeal.
Becker's attorney, Mary Schultz, said he believed that using the lower number would mislead investors by underestimating the company's losses, and that it would violate federal financial reporting laws. When he refused, he was put on a performance improvement plan and ultimately forced to resign.
"You can't fire somebody because they refused to commit a crime for you," Schultz said Friday. "It really validates Mr. Becker's integrity and his resoluteness with doing what he did."
The 46-page ruling emphasized that Rockwood and Community Health Systems presented no justification at trial supporting the $4 million figure as reasonable. Larsen awarded Becker $341,380 in back pay and nearly $1.5 million in front pay, saying Becker likely would have worked at Rockwood through his retirement at the age of 66. He was also awarded $15,000 for damage to his reputation and legal fees and costs.
A separate state court case over Becker's dismissal is scheduled for trial in January. The lawsuit alleges Becker was discharged for refusing to violate state laws against misleading financial reporting.
Copyright 2020 Associated Press. All rights reserved. This material may not be published, broadcast, rewritten or redistributed.
Was this article valuable?
Here are more articles you may enjoy.