An $8 million lawsuit against a fraternity at a northwestern Oregon college says a hazing incident resulted in a 20-year-old man losing his right eye.
KOIN-TV reports that the lawsuit alleges Kellen Johansen was coerced into drinking alcohol, running naked through Linfield College's campus in McMinnville and retrieving illegal fireworks during an initiation party in April.
A man identified in the complaint as the president of the fraternity is accused of discharging the fireworks, which failed to go up in the air and exploded on the ground. The lawsuit claims the explosion resulted in an injury that required the surgical removal of Johansen's eye.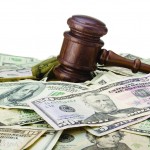 Linfield College spoksesman Scott Bernard Nelson says the school had not yet been served with the lawsuit.
Copyright 2020 Associated Press. All rights reserved. This material may not be published, broadcast, rewritten or redistributed.
Was this article valuable?
Here are more articles you may enjoy.