The city of Las Cruces, N.M. has agreed to pay $400,000 to a man who claims police officers used excessive force on him when he was detained in a holding cell.
The Las Cruces Sun-News reported that the settlement figure between the city and Ross Flynn was confirmed Wednesday. Flynn filed the lawsuit in 2015, claiming his Fourth, Fifth, Sixth and 14th Amendments were violated when he was arrested by Las Cruces police officers in December 2014.
Flynn was detained in a holding cell at police headquarters after he was accused of threatening a woman with a firearm over a parking dispute. The lawsuit alleges that two officers, Richard Garcia and Danny Salicido, beat Flynn, fracturing his skull.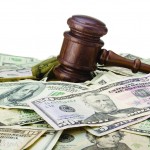 The two officers were fired in May 2015. Criminal charges against them were dismissed.
Copyright 2020 Associated Press. All rights reserved. This material may not be published, broadcast, rewritten or redistributed.
Was this article valuable?
Here are more articles you may enjoy.