The Colorado State Patrol is cracking down on drivers in the state's rural areas who are caught behind the wheel without a seat belt.
The Denver Post reported the increased enforcement in rural Colorado started Monday and ends Saturday.
Colorado Department of Transportation officials say 84 percent of state drivers wore seat belts in 2016, down from 85 percent in 2015. In Colorado's rural counties, the proportion of drivers wearing seat belts has dropped as low as 70 percent, with 15 mostly rural counties falling below the state average.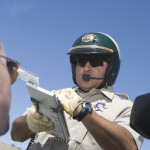 State Patrol ran a similar "click it or ticket" campaign last year, which resulted in more than 1,600 tickets being issued to drivers and passengers in rural areas who didn't buckle up.
Tickets come with fines starting at $65.
Copyright 2020 Associated Press. All rights reserved. This material may not be published, broadcast, rewritten or redistributed.
Was this article valuable?
Here are more articles you may enjoy.