The National Weather Service confirmed a small tornado has touched down in southeastern Arizona.
Meteorologists confirmed the sighting through images on social media after issuing a tornado warning for the Picacho Peak and Red Rock areas.
The landspout happened in the town of Marana and was caused by a severe thunderstorm that moved through the area near Tucson just before 7 p.m. Friday.
There have been no reports of injuries or damages.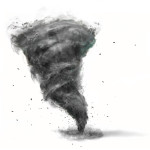 A landspout forms upward from the ground and it becomes a tornado when it connects to a cloud in the sky.
They are common in southeast Arizona but landspouts are different from the supercell tornadoes found in the Midwest. Those tornadoes form in the sky and then hit the ground.
Copyright 2020 Associated Press. All rights reserved. This material may not be published, broadcast, rewritten or redistributed.
Was this article valuable?
Here are more articles you may enjoy.