A group of scientists say the state of Hawaii could lose $19 billion worth of land and structures, and millions more in infrastructure by 2100 because of rising sea levels.
West Hawaii Today reported an upcoming report from the scientists and the state Department of Land and Natural Resources found that the sea level is currently on the rise.
According to their most recent scientific modeling and economic projections, about 20,700 Hawaii residents will be displaced by 2100, and 550 cultural sites will be lost.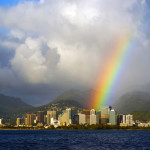 Scientists predict that Big Island's unique coastline will minimize the impact of the rising waters. According to their projections, Big Island will lose $430 million worth of land and structures and 1,900 residents will be displaced by 2100.
Copyright 2020 Associated Press. All rights reserved. This material may not be published, broadcast, rewritten or redistributed.
Was this article valuable?
Here are more articles you may enjoy.