The Oregon Court of Appeals upheld a ruling that the owner of a Eugene convenience store must continue to pay damages to a woman who was refused entry with her two service dogs.
The Oregonian/OregonLive reported the court upheld the order for Kara Johnson, the owner of Duck Stop Market, to pay $60,000 to Michel Hilt-Hayden.
According to the Oregon Bureau of Labor and Industries, Johnson denied Hilt-Hayden entry in April 2013. Hilt-Hayden later filed a complaint with the bureau.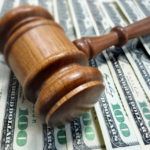 According to court documents, Hilt-Hayden has trouble seeing and hearing and has been diagnosed with post-traumatic stress disorder. The service dogs help her avoid waking into obstacles, and they're also trained to perform a chest compression procedure.
The newspaper could not reach Johnson's attorney for comment Thursday.
Copyright 2021 Associated Press. All rights reserved. This material may not be published, broadcast, rewritten or redistributed.
Topics Oregon
Was this article valuable?
Here are more articles you may enjoy.