A federal jury in Denver, Colo. has awarded $6 million to a convicted murderer who was beaten by a guard so severely that he must now use a wheelchair.
The Denver Post reports jurors determined Wednesday that Mitchell Mullen beat 36-year-old Jayson Oslund "maliciously and sadistically" with the intent of hurting him, even though the inmate was suffering an epileptic seizure at the time.
Mullen says he was trying to get Oslund medical help.
Oslund says the guard slammed his head into the floor of his cell at the Sterling Correctional Facility on March 7, 2013, during his second seizure of the day.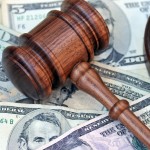 He was serving life in prison for a 2009 murder.
Mullen no longer works for the Department of Corrections.
Copyright 2019 Associated Press. All rights reserved. This material may not be published, broadcast, rewritten or redistributed.
Was this article valuable?
Here are more articles you may enjoy.