More than a million San Francisco Bay Area residents would face extensive damage to their homes after a major earthquake on the Hayward fault, according to a new earthquake scenario developed by the U.S. Geological Survey.
The USGS findings, which were developed with contributions from partners that include the California Earthquake Authority, are part of a HayWired earthquake scenario report that describes likely impacts from a rupture of the Hayward Fault in the Bay Area.
Authors of the report use a hypothetical magnitude 7.0 earthquake with an epicenter in Oakland that strikes on April 18 at 4:18 p.m. and ruptures the Hayward fault along a 52-mile length.
The title "HayWired" also reflects the scenario's impacts on technology and communications systems.
Dozens of organizations reportedly assisted the scenario-development team in identifying community vulnerabilities.
CEA supplied information on residential earthquake insurance in California and the progress of its residential mitigation programs.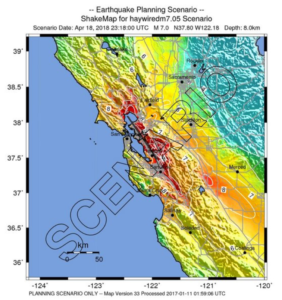 Less than 10 percent of total residential losses from earthquake shaking would be insured because take-up of residential earthquake insurance in the Bay Area is so low, the report shows.
"The HayWired scenario is just that—a scenario—but it's also realistic: It could happen today," CEA CEO Glenn Pomeroy said in a statement. "This scenario really underscores the need to prepare, so you can recover physically and financially after the ground stops shaking."
An analysis for the HayWired scenario from CoreLogic, a commercial provider of catastrophe-loss modeling and risk-management solutions, estimates that more than a million homes would be damaged by shaking if the projected HayWired earthquake were to occur.
The CoreLogic model estimates that insured residential losses from HayWired-scenario shaking could be as high as $5 billion or $6 billion.
Houses built before 1979 when California adopted improved building codes are particularly vulnerable to a Hayward-fault rupture like the HayWired scenario. Older houses can slide off their foundations during an earthquake, and the Bay Area has many such older houses: The median year of residential construction in Oakland is 1951, the median in San Francisco is 1942, and the median in San Jose is 1974, according to the American Community Survey data.
Was this article valuable?
Here are more articles you may enjoy.