California workers' compensation covered payroll rose last year, but the average premium rate charged to employers fell 10 percent, so total direct written premium in the system declined by $192 million to $12.77 billion in 2071, 1.5 percent less than in 2016, according to the latest data from the National Association of Insurance Commissioners.
The NAIC data was released by the California Department of Insurance, and the California Workers' Compensation Institute called out noteworthy points in the data in a report it issued on Friday.
The slight drop in total DWP noted marks the first year-to-year reduction in aggregate premium since 2009. After bottoming out at that point, post-recession growth fueled gains in employment and covered payroll, which in tum helped propel total DWP up from $6.9 billion in 2009 to a 10-year high of $12.96 billion in 2016, according to CWCI.
From 2015 to 2017, however, the average charged premium rate per $100 of covered payroll declined from $2.96 to $2.46, so even with a strong economy, the trend for total DWP has been down, with further reductions likely as the insurance commissioner just approved a 10.3 percent reduction in the advisory pure premium rates for new and renewal policies that take effect on or after July 1, CWCI said.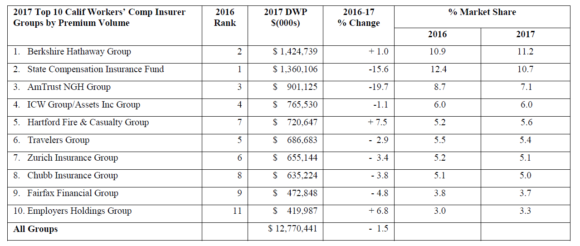 Updated rankings of insurer groups by premium volume show a notable shifts among the largest workers' comp writers in California between 2016 and 2017, with Berkshire Hathaway surpassing State Compensation Insurance Fund to become the largest workers' comp insurer in the state. Berkshire wrote $1.42 billion in DWP in 2017, up 1 percent from 2016, increasing its market share to 11.2 percent, while State Fund's DWP fell 15.6 percent, so its market share dropped to 10.7 percent, according to CWCI.
AmTrust NGH Group reduced its premium volume by $221 million last year, but remained the third largest insurer group with a 7.1 percent market share, while ICW Group Assets Inc. Group held onto the fourth spot after posting a 1.1 percent reduction in its DWP last year.
The market remained heavily concentrated among the large groups, with the top 10 groups alone accounting for 63.1 percent of statewide premium, and the 23 groups that had at least a 1 percent marketshare accounting for 86.9 percent of total DWP in 2017, according to CWCI.
"Whether the slight decline in total workers' compensation premium noted in 2017 marks the beginning of a new trend remains to be seen," CWCI stated in its report on Friday. "While the recent approval of a 10.3 percent rate reduction signals a desire to keep premiums low, those rates are only advisory and insurers are free to set their own rates. At the same time, the impact of any rate reductions on total DWP may be offset to some extent by growth in covered payroll, which will be affected by several factors, including the strength of the California economy and the job market; increases in the minimum wage scheduled to take effect over the next five years; and the extent to which the recent Supreme Court decision in the Dynamex case which tightened the standards for classifying workers as independent contractors may bring new covered employees into the system."
Related:
Was this article valuable?
Here are more articles you may enjoy.