Millions of people are expected to drop, cover and hold on at 10:18 a.m. PST on Thursday, which should be a good opportunity for insurance agents to try and sell some policies, according to the head of the California Earthquake Authority.
The annual Great ShakeOut earthquake drills that originated in California have spread out across the country and worldwide on what is now considered International ShakeOut Day.
More than 58 million people reportedly participated in 2017 in the ShakeOut drills, which are one-minute or more earthquake drill in which participants practice "drop, cover, and hold on" and conduct other aspects of their emergency plans.
Organizers say 57.6 million had already registered to participate as of Monday.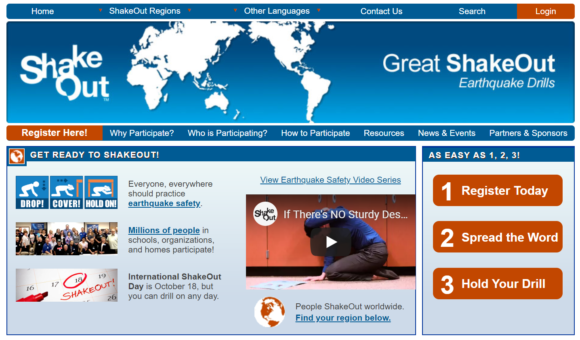 Several local radio and TV stations have agreed to conduct a ShakeOut Drill broadcast at 10:18 a.m.
Information and planning comes from ShakeOut.org, which is managed by the Southern California Earthquake Center at the University of Southern California, with funding from the National Science Foundation, United States Geological Survey and Federal Emergency Management Agency.
A big promoter of the event is the California Earthquake Authority.
According to the CEA, since the ShakeOut event started in 2008, earthquake sales have been busier in the fourth quarter.
The CEA in 2016 made numerous changes to rates and deductibles that drove up sales by 52,000, and last year CEA policies were on pace to grow by another 50,000 before the fourth quarter.
"We wound up growing by 92,000 policies last year," said CEA CEO Glenn Pomeroy. "The 4th Quarter just saw a growth in policies like we've never seen before."
Pomeroy attributed that sales growth to the potential for disasters being on people's minds. ShakeOut was one catalyst, and it also happened that catastrophic hurricanes and wildfires were also hitting around that time, Pomeroy noted.
There are now 1,046,406 CEA policies in force as of Aug. 31.
Pomeroy said events like ShakeOut, as well as other disasters, should be a good time for agents to approach clients to sell policies and offer to help out with emergency preparedness.
"I think ShakeOut is a great opportunity for agents to get a hold of their clients," Pomeroy said. "The Great ShakeOut drill really is an excellent opportunity for everybody to remember that we live in earthquake country in California."
Pomeroy said the CEA also views ShakeOut as a good opportunity to spread the word about the Earthquake Brace + Bolt program, which gives seismic retrofit grants of up to $3,000 to retrofit homes. The program, registration for which is currently running through Nov. 13, is funded from the CEA's Earthquake Loss Mitigation Fund as well as the Federal Emergency Management Authority. This year's program was offered in roughly 255 ZIP codes.
Pomeroy believes agents can take the opportunity to tell clients about the drill, and retrofitting funding, as well as reach out to a broader audience to help raise the awareness of the potential threat of earthquakes.
ShakeOut organizers are encouraging organizations to host the drill broadcast on their websites and post it on social media. One-minute recordings of the drill contain simple instructions, and are available for download in mp3 audio recordings and HD-quality MP4 video recordings.
The ShakeOut event has grown rapidly abroad since its inception. More than 4.4 million participants are expected this year from Japan. A great deal of interest is coming from U.S. areas that aren't typically associated with earthquakes. Some 2.7 million participants are expected from the Central U.S., and 1.8 million from the Southeast.
The biggest number of participants will likely come from California, with more than 9.6 million expected to take part in the drill.
Data from the California Department of Insurance on the takeup rate shows that more California homeowners are buying earthquake insurance. The rate for years was around 11 percent. CDI figures currently show the takeup rate is up to 13.2 percent.
"We're growing," Pomeroy said. "We got a long ways to go, but we're pleased we're going in the right direction."
Related:
Was this article valuable?
Here are more articles you may enjoy.