As Ricardo Lara took office as California Insurance Commissioner at a ceremony in Sacramento on Monday, he pledged to help residents recover from wildfires while defeating the threat of climate change.
Lara, the eighth elected California insurance commissioner since voters created the position in 1988, is the first openly LGBTQ person to be elected to statewide office in California.
U.S. Judge Vaughn R. Walker administered the oath of office. Walker wrote the decision in Perry v. Schwarzenegger in 2010, overturning Proposition 8 and allowing marriage equality in California.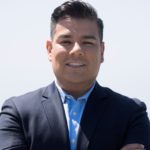 "California's Department of Insurance is the largest state consumer protection agency in America," Lara said in a statement. "We are the department of fair deals, the department of fresh starts, the department of rebuilding your home, the department of protecting your investment, and the department of the sun will come out tomorrow. In short, we are the department of hope, and we have never been more important."
He pledged to protect the victims of wildfires and other disasters, defend all Californians from the threat of climate change and insurance scams, and promote innovation and technology.
"Our seniors, people living in poverty, and immigrant communities are targets of con artists and scams. Our entrepreneurs face economic uncertainty. Millions of us live one emergency room visit away from financial ruin. We cannot deny that with climate change, California faces a threat like never before," Lara said.
Lara announced the creation of the position of Deputy Commissioner of Climate and Sustainability to work with environmental and industry leaders on innovative solutions to the risk of climate change.
"To the insurance industry – I ask you to join me in this fight against extreme disasters linked to climate change. We need bold action to ensure our communities adapt and are resilient to this new reality," Lara said. "There is no other industry that has the necessary expertise to ensure that California is prepared to mitigate and reduce risk to our communities and environment. Our planet can't wait. I am ready, and I hope you are too."
Lara also said he would work with the new administration of Gov. Gavin Newsom to expand access to health care.
"To Governor Newsom – I am excited to be your partner in expanding affordable healthcare for every Californian," Lara said.
Topics California Climate Change
Was this article valuable?
Here are more articles you may enjoy.