As Western wildfires force evacuations in Arizona and California – on the heels of an early and severe wildfire season in New Mexico – insurers are increasingly eyeing the growing risks.
"Insurers are very much concerned about the wildfire situation," said Arindam Samanta, director of product management for Verisk Underwriting Solutions. "We are talking to dozens of insurers."
The increased interest has led to increased sales of Verisk's wildfire modeling and data, Samanta said.
"We see the use of granular information has gone up in the industry," he said. "Uptake of this information has gone up."
Insurer concerns are real, and they are playing themselves out in what's shaping up to be another long, and so far severe, Western U.S. wildfire season.
Two wildfires burning on the outskirts of Flagstaff, Arizona, have forced the evacuation of roughly 2,500 homes. One of the blazes is estimated to have reached 8 square miles in size.
Evacuations were ordered in California for roughly 300 homes this week because of the Sheep Fire in San Bernardino County. The fire has burned nearly 1,000 acres, and is only 27% contained, according to Cal Fire.
Massive fires in New Mexico have made it the state's worst wildfire season in 30 years.
The National Interagency Fire Center reports that so far in 2022, 29,827 wildfires have burned 2.6 million acres across the country, above the 10-year average of 23,070 wildfires burning 1.1 million acres. Seven new large fires were reported on Monday, three in Alaska and Arizona and one in Utah, according to the agency.
The trend points toward earlier and more severe seasons in the West.
"For the last few decades, we have been seeing an expansion of the wildfire season," Samanta said.
The warming trend, for which he blames climate change, paired with earlier spring seasons, earlier snow melts, and warm weather lasting later into the year, are raising the risks, he said.
His biggest concern is the risking level of risk to a growing number of properties.
More than 4.5 million properties are at high and extreme risk across the U.S. West, according to Verisk data.
Nearly half of those properties are in drought-plagued California. Texas (717,800), Colorado (373,900), Arizona (242,200), Idaho (175,000), and Washington (155,500) are other states with a large number of properties at the highest wildfire risk levels.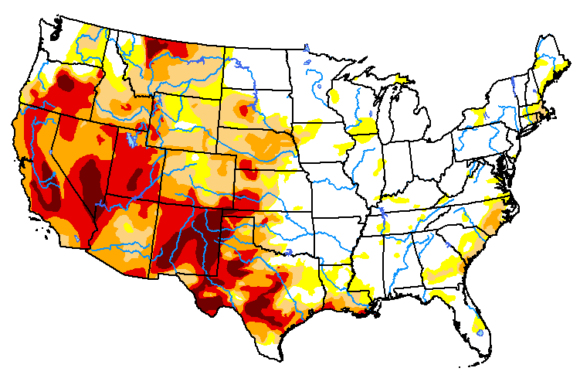 Fire weather forecasts since May have raised concern about how the season is shaping up.
A forecast earlier this month compared expectations for this season to grim realities from recent record-breaking seasons.
Zesty.ai, a startup that provides insurers artificial intelligence to help measure wildfire risk at the individual property level, on in early June issued its 2022 Wildfire Season Overview.
"The year ahead looks to be similarly destructive to 2020 and 2021, which were among the most destructive on record," the overview states.
Zesty's outlook for California is severe. In 2021 in California saw 2.5 million acres burned and 3,629 structures were damaged or destroyed, and in 2020 there were 4.3 million acres burned and 11,116 structures destroyed, making both years among the worst years on record.
"Unfortunately, this year looks to be on track to be similar to the last two years, during which Californians experienced record-breaking wildfires and billions of dollars in property loss," the analysis states. "Current drought patterns in the state show that there is nearly the same level of drought, with fewer sections of extreme or exceptional drought, as the same week last year."
An analysis from AccuWeather forecasters in May also calls for another severe wildfire season in the Western U.S.
AccuWeather's forecast in May indicated the 2022 fire season could yield 68,000 to 72,000 fires across the nation, burning 8.1 to 8.3 million acres. The national average from 2001 to 2020 was 68,707 fires burning 7 million acres, according to the National Interagency Fire Center.
The latest U.S. Drought Monitor map shows much of the U.S. West under extreme or exceptional drought conditions.
Insured losses in the U.S. in the last two years reached $176 billion, the highest two-year total in U.S. history, and in California, 40,000-plus homes were destroyed by wildfires in last five years, according to the American Property Casualty Insurers Association.
This has insurers across the nation grappling with the impact of recent significant catastrophic events while facing down increasing wildfire exposure in multiple Western states.
"Insurers are concerned about the warmer and drier conditions throughout the West, heavily driven by climate change and the persistent drought issues, which are leading to increased risk as vegetation is drying out faster," said Karen Collins, assistant vice president of personal lives for the APCIA.
Increasing risk from evolving environmental conditions, and the rising costs of materials and labor in the current market, add greatly to those concerns.
"What the industry is facing is the challenges of increasing losses," she said.
And with only hotter, drier days ahead as the summer gets under way, Samanta expects the worry and the risk to be with us throughout the wildfire season.
"We are seeing an early start," he said. "That will continue to be an influence on the rest of the wildfire season."
Related:
Topics Carriers Catastrophe Natural Disasters USA Trends Wildfire
Was this article valuable?
Here are more articles you may enjoy.