This post is part of a series sponsored by AgentSync.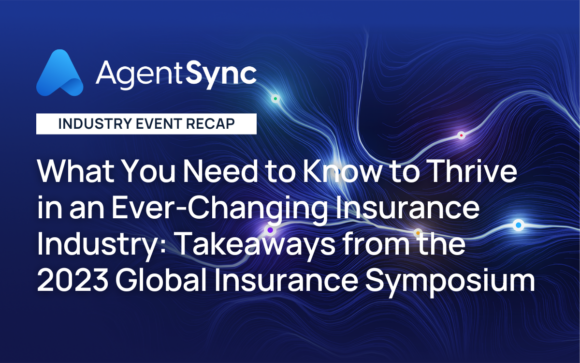 More than 400 insurance professionals – state, federal, and international regulators; P&C, life, and health carriers; insurtech entrepreneurs; and college students representing the next generation of insurance talent – convened in Des Moines, Iowa at the Global Insurance Symposium for three days of pitches, dialogues, and insights centered on the theme, "Thriving in a Changing World."
In keynotes, panels, and breakouts, insurance leaders from around the world discussed the challenges that the insurance industry grapples with – balance sheets with unrealized losses, recruiting and retaining talent, climate change, and a growing protection gap.
"When the world turns upside down, how do we take that obstacle and make it an opportunity?" asked Tom Swank, Executive Chair of the Board and CEO of American Enterprise Group.
Many presenters spoke about the bright future of insurance – how our people, our companies, and our industry can thrive in this changing world. Here are seven things we took away from the 2023 Global Insurance Symposium:
Resiliency depends on a business's ability to pivot
Insurance is still a hedge to unsteady markets
The industry is open to data-backed regulation
Crisis is the best time to innovate
AI is ripe for regulation
People remain the insurance industry's biggest asset
Carriers need insurtech partners, insurtechs need carrier partners
Let's dive in.
---
1. Resiliency depends on a business's ability to pivot
For Peter Gailliot, Global CIO of the Financial Institutions Group (FIG) and Head of Fixed Income FIG Portfolio Management at BlackRock, the recent turmoil in the banking sector set the stage for his keynote presentation on financial markets and what insurers can do to build resilient portfolios.
"The function of central banks has changed," said Gailliot in the event keynote. "They are no longer using the toolkit they built during the 2008 financial crisis. Now they are learning how to pivot policy quickly to address economic challenges."
The current market environment, influenced by more than $4 trillion COVID stimulus since 2020 was "unprecedented on the way in and will be unprecedented on the way out. It will create volatility. The Fed needs to be humble and patient."
With financial regulators trying to address both inflation and tight labor markets that remain near peak employment, Gailliot sees an environment ripe for insurers to put their capital to work and realize yields.
"Volatility is massive, with central banks willing to change policies or even enact policies that contradict themselves," said Gailliot. "Policy operates with a lag, so be cognizant of this reaction function. Building dynamic portfolios can create opportunities. Keep putting your capital to work."
2. Insurance is still a hedge to unsteady markets
Doug Ommen, Insurance Commissioner of Iowa, moderated a fireside chat with Lard Friese, CEO and Chairman of the Executive and Management Board at Aegon N.V., and Will Fuller, President & CEO of Transamerica.
Reflecting on Gailliot's keynote, Friese said, "An insurer needs to provide calm in the storm and be a beacon of trust. They must also focus on keeping the balance sheet strong so that the company is in good stead." That can take the form of hedges to mitigate inflation risks, and also expanding product options for customers, offering coverage changes that fit their budgets for their immediate cash needs.
About the current regulatory environment, Friese admitted he's a fan of regulation, but only when it's effective. He offered the example of the instruction manual for the Ikea Billy bookcase as an example of how insurance should approach regulations and disclosures.
"We need to keep it understandable for consumers and we have a big role to play for products, choices, and make communication easy," Friese said.
Fuller discussed the diversity of business models – stock, mutual, and private equity – now in the insurance market. "It turns out that running an insurance company is agnostic of the ownership model. Focus instead on their activities, not ownership."
Turning to ESG, Fuller emphasized, "Practice sustainability, not headlines."
3. The industry is open to data-backed regulation
Christine Holmes, Partner at EY, moderated a panel discussion about global issues and regulatory considerations for the insurance industry. Panelists included Mike Consedine, CEO of the National Association of Insurance Commissioners (NAIC); Petra Hielkema, Chairperson of European Insurance Occupational Pensions Authority; John Huff, President and CEO of the Association of Bermuda Insurers and Reinsurers; and Susan Neely, President and CEO of the American Council of Life Insurers.
Holmes opened by inviting the panel to react to news reports calling on increased financial services regulations.
"Doubt travels fast," said Hielkema, "but data can be a powerful tool." The Monday after SVB collapsed, she did a liquidity analysis to brief her leadership team on what turned out to be a minimal risk to the insurance sector.
Consedine called on the industry to do the work of informing regulators and legislators who set policy. "We need to educate Congress that insurance is different from banking. A bank run, fueled by social media, can't happen in the insurance sector because of checks and balances and other mechanics. We welcome effective regulation, not one-size-fits-all regulation."
4. Crisis is the best time to innovate
Dan Israel, Managing Director of the Global Insurance Accelerator, moderated a panel discussion about the role of innovation within insurance companies and how to make the most of innovation resources with Wendi Bukowitz, Vice President and Director of Strategic Innovation at Cincinnati Insurance; Casey Decker, Sammons Financial Group; Beverly Harris, Vice President of Corporate Strategy and Product at Texas Mutual Insurance Company; and Bruce Hentschel, Vice President of Enterprise Strategy and Innovation at Principal Financial Group.
"Crisis is the time to innovate. When a crisis happens, look at it as an opportunity," said Henschel. "Innovating in a crisis is when you get the most done because you break the barriers. During the COVID pandemic, some wanted to pull back on innovation to protect the core. I was the opposite – it was time to invest. We had to innovate to survive. No one wants a crisis, but don't let a crisis go to waste."
Bukowitz agreed, emphasizing the need to embed innovation throughout the way insurance companies operate. During the first months of the COVID pandemic, Cincinnati pivoted to virtual inspection and a digital e-signature process in less than three months. She said, "enable the business to solve problems quickly. Focus on point solutions, not end-to-end problems. Aspire to have innovation embedded in our everyday work."
To build that culture, Harris said, "Tie your innovation ideas to business value. When you tie innovation to your strategy, mission, and vision, you have a way to say, 'No.' Otherwise, you can't accomplish anything."
"Anchor on purpose," said Decker. "What are we trying to accomplish? Innovation can mean different things to different business units, different roles, different timelines."
Henschel noted that while senior leaders and individual contributors often buy into the call to innovate, there can be a "frozen middle who ask their direct reports to 'do their job,'" often at the expense of innovation.
Bukowitz acknowledged the stresses facing middle management. "We run lean, with hard-to-achieve operation goals. It's hard to give staff time to innovate. We have to ask the C-suite to empower middle managers to spread the work around and create space for innovation."
5. AI is ripe for regulation
Pat Hughes, Partner at Faegre Drinker, moderated a panel discussion with four state insurance commissioners: Jim Donelon, Insurance Commissioner of Louisiana; Nathan Houdek, Commissioner of Insurance of Wisconsin; Mike Kriedler, Insurance Commissioner of Washington; and Andrew Mais, Insurance Commissioner of Connecticut, who discussed the challenges facing state insurance regulators.
They began their discussion with a conversation about their approaches to evaluating whether a risk factor is fair.
"We should be fair, but we don't agree on what fairness means," said Mais, who is also NAIC president-elect. "Think about protected classes. It's not good enough that there's a correlation that works.
"It has to be fair. That's the biggest challenge for the industry."
AI provides a tremendous opportunity to bring fairness – and more people – to insurance, but AI also has a potential to perpetuate bias.
"To make AI or credit scoring work, it has to correlate to risk and hard factors," said Kreidler. "Some demographics, such as education and occupation, have biases."
Houdek described AI as "a black box. We don't really know the factors. Are they abiding by the laws and regulations?"
Carriers also present challenges in their rate filings, which test the capacity of state actuarial staffs. Kriedler described how rate filings that were once tens of pages can now be thousands of pages.
"The complexity is challenging," said Kreidler. "There's a lack of transparency – it's not satisfactory to ask for a rate increase and the only explanation is 'the cost of doing business.'
"The policyholder can ask the carrier, but the carrier points them to their agent or us, the regulator. We need transparency in rate filings to hold carriers accountable."
6. People remain the insurance industry's biggest asset
Doug Ommen, Insurance Commissioner of Iowa, moderated a panel discussion with four insurance chief executives. Anant Bhalla, CEO and President at American Equity Investment Life Holding Company; Jeff Dailey, Chair of Farmers Group; Kendall Jones, President & CEO at ProAg; and Tom Swank, Executive Chair of the Board and CEO of American Enterprise Group, discussed the challenges and opportunities facing the insurance C-suite.
While the executives talked at length about maintaining a good balance sheet, they agreed that their most important asset is their people.
"People are our biggest asset and our biggest expense," said Swank. "We need to get the right people in the right roles with the right skillsets. During COVID, we doubled down on people development and management development, providing an upskilling program.
"If you want a long career, you have to evolve. We're helping our people develop T-shaped skills to get a broader view of how our company operates. A serpentine career makes a person a better manager than a siloed career."
Jones agreed, adding that it's a unique challenge to transfer knowledge from older, retiring employees, to the people joining the organization. "It's a balancing blend, but it's an exciting time to be in insurance to participate in these complex changes."
7. Carriers need insurtech partners, insurtechs need carrier partners
Terri Vaughan, Professional Director of the Emmett J. Vaughan Institute of Risk Management and Insurance at the University of Iowa, moderated a panel discussion with four insurtech founders with Manish Bhatt, CEO and Co-Founder at Plum Life; Trevor Gary, Co-Founder and CEO of Micruity; Bill Suneson, CEO at Bindable; and Brent Williams, Founder, CEO, and President of Benekiva, discussed the unique challenges of being an insurance entrepreneur.
Each of the panelists shared the stories of their unique entrepreneurial journeys and the lessons they learned along the way.
Bhatt gave the example of producer experience in life insurance. "I can't imagine my kids becoming a life insurance agent because of the tech. It has to modernize. It's an existential threat. Carriers understand, but they grind slowly to change," said Bhatt. "If you want to win, change faster."
"Insurtech entrepreneurs can drive innovation. But, it's a risk for a carrier to take a chance on an insurtech," said Williams, whose first customer was Homesteaders Life. They remain Benekiva's largest customer by volume. "If entrepreneurship was easy, everyone would do it."
Suneson noted that you have to find partners to be fully successful. "You can't execute on your own. Find someone you trust and respect that does things you can't do."
Gary added that there could be a silver lining in the wave of insurance retirements. "Bring your knowledge to startups!"
Insurance: an industry with a purpose, thriving in times of change
As the leaders and innovators in insurance departed from Des Moines, they left with a sense of resolve.
"Insurance is an industry with a purpose," said Bindable CEO Bill Suneson. "Delivery will change, tech will make it better, but our purpose is to help people in their worst moments. If you're not in the business to help people, you shouldn't be in the business."
AgentSync is also in the business of helping people. Whether you're a carrier, agency, or MGA/MGU, see how AgentSync can integrate and automate compliance. Schedule your demo today.
Was this article valuable?
Here are more articles you may enjoy.