This post is part of a series sponsored by CoreLogic.
As strong winds further exasperate the prime weather conditions for wildfires in California, efforts to save lives and property are a foremost priority of emergency responders and state officials. To add insult to the wildfire weary state, ongoing recovery efforts from prior years fires continue to move at a snail's pace. CoreLogic research has identified several factors that may be contributing to the slow pace of rebuilding after these devasting fires.
Underinsurance
Recent legislation in California requires insurers to recalculate reconstruction costs, at a minimum, every two years or offer the policyholder at renewal the opportunity to recalculate using a reconstruction cost inflation factor instead. But using a cost inflation factor does not always account for building cost increases. For example, research in the 2019 CoreLogic Coverage Adequacy Report identified over 110,000 Southern California properties in very high to extreme risk of wildfire. With the average home in Southern California costing over $400,000 to reconstruct, the reconstruction cost exposure for high wildfire risk in the region is more than $46 billion. As the price of materials and labor increase over time, so do the reconstruction costs. The chart below demonstrates the increase in reconstruction cost over a two-year period ranges from 3.5 to 5.6 percent. This increase in building costs can cause significant undervaluation for the insurance industry. For example, if just 1 percent of homes with high wildfire risk in Southern CA were a complete loss due to wildfires, given the reconstruction cost over the last two years has increased 5.6 percent (see chart below), the industry undervaluation for that 1 percent is more than $25 million if coverage is not current.
Reconstruction Cost Change for High Wildfire Risk in Southern California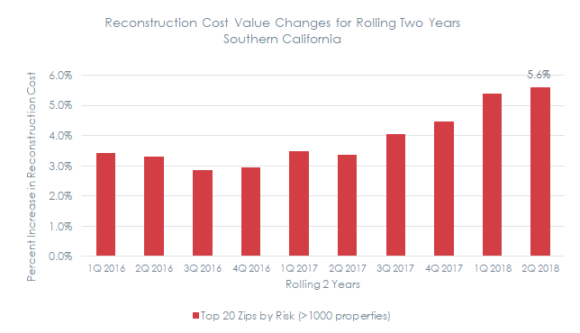 Strict Building Requirements
After the Tubb's Fire, Sonoma County struggled to find enough local qualified contractors and due to California's environmental and licensing requirements, the use of out-of-state contractors was extremely limited. For example, California requires contractor licensing for both general contractors and sub-contractors; which is not the case in other states. Progressive environmental policies and strict building codes designed to improve energy efficiency, seismic and wildfire resilience is enforced as well. Although a few requirements were relaxed to speed recovery efforts, some would argue that the state's strict regulations contributed to decreased contractor availability and thus drove up costs and prolonged recovery efforts.
Demand Surge
Following the Tubbs Fire in October 2017, the unemployment rate in Santa Rosa, California dropped from 3 percent to 2.5 percent in a year and only added 1700 construction workers. The tight labor market and hot housing sector in Northern California left very little capacity for the surrounding construction markets to absorb the additional demand. Furthermore, housing to accommodate additional workers in Santa Rosa was scarce due to a near 100 percent occupancy by those that lost their homes. Other factors that contribute to demand surge include:
The probability of a demand surge is directly related to the size and severity of the event.
Demand surge can increase costs anywhere from 15 to 30 percent and typically lasts 6 to 12 months.
Demand surge can affect one skilled trade or several and generally correlates with the level of unemployment or capacity of the local workforce.
If local regulatory constraints slow the rebuilding process it can exacerbate demand surge.
Demand surge impacts losses differently; the more complex the project, the higher probability of price spikes.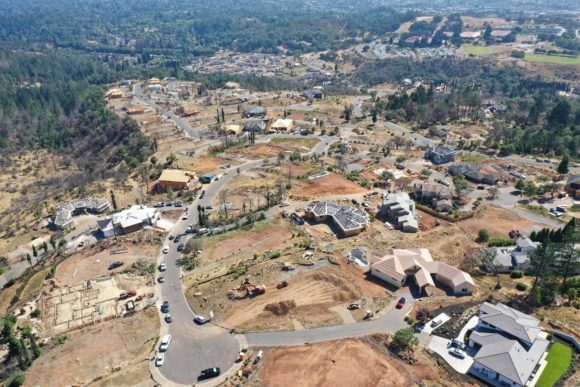 Photo caption: An aerial view of a Sonoma County neighborhood post Tubb wildfire
The goal of insurers following a natural disaster is to settle homeowner claims quickly and efficiently; thereby giving property owners the ability to better navigate demand surge. It is important that homeowners have enough coverage in the first place by 1) acknowledging how much building costs can change in two years and 2) by leveraging a reconstruction estimating tool that uses current localized costs of labor and building materials that is unique to the specific home.
Topics California Catastrophe Natural Disasters Legislation Wildfire Contractors
Was this article valuable?
Here are more articles you may enjoy.