This post is part of a series sponsored by CoreLogic.
California's 2017 and 2018 catastrophic wildfire events hit state insurers historically hard, with record-breaking losses of over $25 billion.1 2 Three years later, state regulators, utility companies, and insurers are still scrambling to find solutions for homeowners who have lost their homes. In response, California Department of Insurance Commissioner Ricardo Lara issued a mandate. On November 14th, 2019, the commissioner ordered the FAIR Plan Association, a state-established "insurer of last resort" ran by a pool of private carriers, to offer comprehensive homeowners insurance, adding traditional perils like water damage, theft, and personal liability to their fire coverage.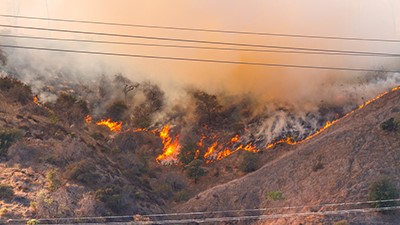 Here are six things you need to know in order to understand this recent development in California's insurance regulatory environment.
Carriers Reduced Coverage After Wildfires
After the recent damaging wildfires throughout the state, many traditional carriers reduced or discontinued their insurance coverage in zones deemed high-risk of wildfire. This meant many homeowners who needed insurance were forced to purchase insurance from the FAIR Plan which has rates that are often 2-3 times the rates of traditional carriers.3
California Mandates Carriers Maintain Coverage
To combat insurers cancelling coverage in high-risk wildfire zones, The Wildfire Safety and Recovery Act (CA SB-824) of 2019 mandated a one-year moratorium on non-renewal of homeowners insurance for at least 800,000 homes in ZIP codes near recent wildfire disasters. While existing law prevents carriers from non-renewing homes with a total loss, this new law also protects those living adjacent to a declared wildfire emergency who did not suffer a total loss.4
This moratorium is not unprecedented, as a similar policy was put into place after Hurricane Andrew wreaked havoc in Florida in August of 1992. In this case, Florida property and casualty insurers were faced with over $16 billion in losses.5 A year later, the Department of Insurance imposed a moratorium on non-renewals of residential property coverages in Florida for 90 days. The Department also later issued a moratorium phaseout, where insurers were prohibited from cancelling more than 5% of their homeowner's policies in the state over a 12-month period and more than 10% of their policies in any given county. This phaseout was set for three years until 1996 and was then replaced with a similar law that lasted another three years until 1999.6
After October 2018's Hurricane Michael, the Florida Insurance Commissioner issued a 90-day moratorium for carriers in impacted counties. California's moratorium is a lot lengthier, and is proving a challenge for state insurers as they work to control losses amidst many years of consistent devastating wildfire events.7
California Orders FAIR to Offer HO-3
In November 2019, the California Department of Insurance ordered the FAIR Plan to (1) offer a comprehensive HO-3 homeowners policy which adds traditional homeowners insurance features like water damage and personal liability, (2) increase the combined dwelling coverage limit from $1.5 million to $3 million, and (3) offer a monthly payment plan and allow policyholders to pay by credit card or electronic funds transfer without any fees. The CDI mandated that this order be completed by June 1, 2020. The FAIR Plan has publicly stated that it is supportive of increasing coverage limits and offering a monthly payment plan without fees, but it is opposed to offering a comprehensive HO-3 policy.8
FAIR Plan Files Writ of Mandate
FAIR Plan is concerned that the order would increase insurance costs for all policyholders of the Plan and further reduce incentives for traditional carriers to sell insurance in wildfire prone areas.9 As such, the FAIR Plan filed a writ of mandate to the Los Angeles Superior Court in December 2019 asking for a withdrawal of the California Department of Insurance's order. The FAIR Plan argues that the order to offer comprehensive homeowners insurance is outside of the association's statutory mandate to provide "basic property insurance" and maintain "actuarially sound rates," and that the FAIR Plan does not have the resources or expertise to provide HO-3 insurance. The association also asserts that the order conflicts with the FAIR Plan's goal of encouraging "maximum use" of the traditional insurance market.9
Los Angeles Court Issues Preliminary Injunction
In February 2020, the Los Angeles Superior Court imposed a preliminary injunction against the California Department of Insurance commissioner Ricardo Lara, ruling that the FAIR Plan cannot be compelled to issue a HO-3 policy. However, the court upheld the requirement for raising the dwelling coverage and creating a no-fee monthly payment plan.10
California Introduces "Hardened Homes" Bill
The California Insurance Commissioner and state lawmakers introduced Assembly Bill 2367, named "Renew California." The bill would create a Wildfire Resilience Task Force, which would include the Insurance Commissioner, the Director of the Office of Emergency Services, and the State Fire Marshal, to establish minimum standards for fire-hardened homes and communities. The bill would also require admitted property insurers in the state to write or renew policies when (1) the applicant or insured owns a residence with an estimated replacement cost consistent with the insurer's underwriting guidelines and (2) the residence and community meet the minimum standards for fire-hardening.11
While mandatory HO-3 coverage for the FAIR Plan is not likely to be upheld in court, coverage limits for the plan will likely indeed be raised from $1.5 million to $3 million. This, combined with an elimination of electronic transfer fees, will likely result in higher FAIR Plan rates. This is not good news for homeowners in wildfire-prone areas, who are already unable to obtain coverage from a traditional carrier. The result could be a continued lack of sufficient coverage in wildfire zones and could potentially impact current and future development in these areas if prospective homeowners are not able to obtain insurance coverage.
Sources:
http://www.insurance.ca.gov/0400-news/0100-press-releases/2018/release013-18.cfm
2. http://www.insurance.ca.gov/0400-news/0100-press-releases/2019/release041-19.cfm
3. http://www.insurance.ca.gov/0400-news/0100-press-releases/2019/release063-2019.cfm
4. http://www.insurance.ca.gov/0400-news/0100-press-releases/2019/release092-19.cfm
5. https://www.nytimes.com/1996/04/25/us/florida-facing-crisis-in-insurance.html
6. https://hazards.colorado.edu/archive/publications/wp/wp96.html
7. https://floir.com/sitedocuments/234790-18-EO_Hurricane%20Michael_Suspension_of_Certain_Rules.pdf
8. http://www.insurance.ca.gov/0400-news/0100-press-releases/2019/release089-19.cfm 9. https://www.insurancejournal.com/news/west/2019/12/13/551251.htm
10. https://apnews.com/3fc7481609f6158be21b0a32ff1d8d7f
11. https://leginfo.legislature.ca.gov/faces/billTextClient.xhtml?bill_id=201920200AB2367
Topics Carriers California Catastrophe Natural Disasters Legislation Florida Wildfire Homeowners Numbers
Was this article valuable?
Here are more articles you may enjoy.