IJAM welcomes guest blogger Charles Wasilewski, vice president of marketing communications for Aartrijk branding firm.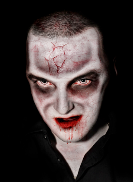 It's October, and I'm a bit nervous about hurricane season – and Halloween. After all, for the past two scary holidays my home was literally powerless resulting from the Hallow'easter storm of 2011 and Superstorm Sandy of 2012. Halloween was literally out of business in parts of New Jersey the past two years. I was grateful to have a home, but thanks to Mother Nature and the local electric utility I couldn't play my usual tricks on unsuspecting trick-or-treaters.
What's really scary, though, is insurance marketing. But everybody needs to stare into the void now and then, right? How do insurance marketers come up with the right combination of elements to reach (and interact with) those elusive prospects and out-of-sight clients?
I survived plugging in a gasoline generator into my home electrical system last year without electrocuting myself. So that gave me courage to swallow hard and ask a few of my favorite insurance marketers who are either independent agents or who work with them:
"What's scary about insurance marketing?"
1. "One thing that might be scary is that you are trying to make your topics interesting and fun, on a subject that can be technical, detailed and boring. Another might be worrying about any typos or mistakes on an email to 2,300 recipients just as you hit 'send.'" – Stuart S. Durland, AAI, AINS, Seely & Durland, Inc. (www.seely-durland.com)
2. "What is scary to me is that many agents are missing the new business and growth that comes from having a marketing plan. They are not using local search, have not signed up as part of the Project CAP network of independent agents to get leads, do not track where every piece of business comes from, are not taking advantage of social media, and are not building a strong online presence so they will be found by consumers." – Jeff Yates, executive director, Agents Council for Technology, Independent Insurance Agents and Brokers of America (www.IIABA.net/ACT)
Yikes.
But, alas, before you hide beneath the covers, consider this:
3. "It's scary to realize that today's technology allows prospects, angry that you interrupted them, to reach through the phone and…oh, wait. That's all in the marketer's head! Like all fears." – William Henry, Volunteers Insurance Service Association, Inc. (www.cimaworld.com/nonprofits/cima-volunteers-insurance)
Charles Wasilewski is vice president of marketing communications for Aartrijk (www.Aartrijk.com), a boutique branding firm serving insurance-related firms. Send him Halloween trick ideas at charles@Aartrijk.com. Don't be scared of insurance marketing. Join other insurance non-scaredy-cats at Brand Camp (Aartrijk.com/brandcamp).