IJ Video Highlights
---
As the Market Turns, What Is Broker's Role?
The soft market is turning, perhaps not dramatically but it is turning, says Jerry Sullivan, chairman, The Sullivan Group, in Los Angeles. If carriers decide they must raise prices, will customers pay them? As the market turns, what role should brokers play? Sullivan gives his views in this interview with Insurance Journal from the recent Western Insurance Agents Association's Insurance Industry Roundtable, starting with what is happening to rates.
Trends in Professional Liability Claims
With certain professions seeing a rise in claims, Gerry Merritt, president of Hanover Professionals, discusses the reason for the increase and the main targets of such claims, in this interview with Claims Journal and Insurance Journal at this years annual PLUS conference in San Diego.
Podcast Highlights
---
A Full Plate in 2011 for Oklahoma's Commissioner
In his first year as insurance commissioner of Oklahoma, John Doak has been a busy man.
Doak and the agency he leads have had their hands full implementing reforms in the workers' compensation system, dealing with a host of natural catastrophes, encouraging insurers to offer more products and services in the state, and working with the governor and legislature to foster an "Open for Business" environment in Oklahoma.
A former insurance producer and agency principal, Doak believes in fostering a competitive, market-based approach to resolving insurance issues while continuing to serve consumers through outreach and regulatory protections.
More of the Same in Agency E&O
Agencies must provide the right kinds of coverage for new and emerging risks. To do so, agents must stay on top of changes in coverage, new markets and much more. But despite all the new and sometimes exotic coverage options available today, the number one agency errors and omissions exposure has stayed the same for more than two decades. Sabrina Sally, senior vice president with Swiss Re Corporate Solutions, who leads the carrier's U.S. agents E&O program, says the top threat to agencies remains the failure to procure coverage. In this podcast, Sally talks about the agency E&O climate today and offers a few tips on how agency owners can protect their firms in 2012.
In a Reader's View
---
White House Defends Healthcare Law As 'Response to Crisis'
As the U.S. Supreme Court gets ready to hear arguments over President Barack Obama's signature healthcare overhaul, the administration tried to defend the law in a written submission to the court this month. The justices will hear arguments in the high court's biggest case this term over three days in late March. The court's decision is expected in late June.
Below are just a few comments generated by this story. To read, visit: www.insurancejournal.com.
Jacob S. says:
All this time I thought the Obama healthcare bill was creating the crisis. There could have been much easier ways to solve the "crisis" the White House has eluded to. Tort reform, sell insurance across state lines, let healthcare be purchased by the individual and not the company, let people pay upfront for expenses to see what the true cost of healthcare is… Forcing an entire business out of work is not an answer…but it's a great way to institute more socialism.
---
Amazed says:
Mandating insurance coverage for all lines may be just around the corner and we will need to create another federal bureaucracy to "regulate" it since they are really into regulation of everything we eat, breathe, energy use, healthcare. You name it and they will want to regulate it and tax us up to our eyeballs.
---
jfk1971 says:
Was this article valuable?
Here are more articles you may enjoy.
From This Issue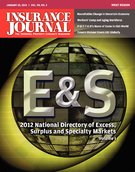 Excess, Surplus & Specialty Markets Directory Vol. I