As the economy rebounds from the Great Recession, the restaurant industry also is enjoying a gradual recovery, according to industry observers.
Many restaurants – especially smaller, single-unit operations – continue to face headwinds, but there is also a sustained recovery and growth, especially in the "fast casual" segment. Generally, property/casualty rates for restaurants appear to be rising modestly, with higher increases in weather loss-prone areas.
At St. Louis Park, Minn.-based ProHost USA, president Heidi Strommen says she is seeing a revenue rebound among her firm's insureds. For insurance rates, restaurants are facing small, incremental rate hikes overall, although individual rates depend on a range of considerations, including the location, construction and design of the building, as well as the business model of each establishment.
Strommen says there's "more underwriting taking place," so that accounts with previous claim issues are more likely to be priced appropriately than they were just a couple of years ago.
It's important for agents to monitor changes in restaurants' operations and help insureds obtain appropriate coverage.
ProHost is a program administrator that writes restaurant package policies that include property, general liability, liquor liability, crime coverage, auto and equipment breakdown.
One of the growing challenges the company sees in the marketplace involves weather-related losses.
"It's not just strictly for restaurants," Strommen says, "but obviously everybody is facing some challenges with the revisions in the catastrophe modeling."
She says major natural catastrophes during the past couple of years are causing insurers to view property coverages in certain regions differently: "It's definitely something that has changed the market."
There also has been a change in underwriting appetite in some areas, "where we didn't use to think of weather-related claims being a big issue, and it's not just for coastal states," she says.
In the middle of the country, like Oklahoma and Kansas, there have been more wind deductibles being used because they are in the tornado alley, and they've had recurring disasters and catastrophic weather events in that part of the country, Strommen says.
"Keeping up-to-date with underwriting for catastrophes and how to address them in the book of business is certainly a challenge for everyone these days," she says.
She also advises that as restaurants continue to experiment and seek new ways to boost revenues, it's critical for agents and insurers to keep track of changes and assist policyholders in obtaining appropriate coverage. She says she has been seeing, for example, some restaurants that never had delivery before now trying delivery for the first time.
Sometimes, she says, restaurateurs don't realize they need to consult their insurance agents to make sure they have coverage in place for delivery.
In terms of other loss trends, slips, trips and falls claims occur very frequently and consistently, and that pattern hasn't really changed, she says.
But Strommen says data breach exposures are an emerging and increasing risk. She says that as more restaurants move toward computerized systems and online technology, this is becoming an area with some large uninsured exposures in some cases.
Woodbridge, N.J.-based NIP Group, which offers business insurance programs for owners and operators of restaurants, says the market for restaurant insurance is "still highly competitive," with activities by established and some new players, and additional capacity entering the space.
David Springer, president and chief operating officer of NIP Group, says his firm is seeing prices remaining essentially stable. NIP Group's program offers standard business coverages, such as general liability and property, along with optional enhancements.
Springer agrees that the most common perils for restaurants are slips, trips and falls.
"Any environment where you find an abundance of water or cooking fats sets the stage for those kinds of mishaps," he says.
Another area restaurants need to consider is employment practices liability, he observed. "The nature of the industry seems to lend itself to these types of claims, and we are seeing some increases in both frequency and severity, which, of course, drive up loss costs," Springer says.
Additionally, the Affordable Care Act has many wondering about potential impacts on small businesses, he says, particularly as it relates to employee head counts and the number of hours worked, both of which are affected by stipulations within the ACA.
"All in all," he says, "as the economy continues to gain steam, we expect to see increased activity with both regional and national chain restaurants, as well as smaller, mom-and-pop operations."
Casual and family friendly restaurants seem to be in a better position than higher-end restaurants, Springer says.
Some industry observers also say they are continuing to see non-specialist carriers enter and leave the restaurant sector at a steady pace, which poses challenges and opportunities for more established markets.
Insuring Grocery Stores
In the food industry, another active marketplace centers around grocery stores.
The marketplace is currently very competitive in terms of appetite, with numerous admitted and non-admitted insurance carriers, and no single carrier in a market dominant position, according to an insurance executive who declined to be identified.
The executive says carriers of all sizes are active in the space, including specialists and generalists. Rates for small commercial stores have been rising modestly in most areas. The grocery industry also is trying to find higher-margin or value-added products and services, such as online ordering and delivery, or increased catering operations. Such services could create additional exposures, he cautions.
For grocery stores, leading causes of loss other than fires include: slips and falls, crime or employee dishonesty, food sickness or allergic reactions, and loss of customers due to a covered event. Additionally, cyber liability and employment practices liability insurance are filling increasingly critical coverage needs for grocery and convenience stores.
Was this article valuable?
From This Issue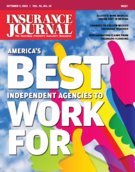 Professional Liability Directory; The Best Insurance Agencies to Work For; The Food Issue: Restaurants, Fast Food, Bars, Liquor Liability, Grocers, Food Trucks, Food Manufacturing & Product Recall