Changing Regulation and Enforcement Can Get Your Client T-Boned
---
Take a drive down any highway in America and you won't have to go too far before seeing a patrol car pulling over a big rig. Often the officer has stopped the vehicle simply to ensure the driver is following all the necessary protocols.
Which ones? These days it can be tough to keep track.
For example, did you know that a vehicle weighing more than 10,001 pounds is considered a motor carrier by the Federal Motor Carrier Safety Administration (FMCSA)? That means it is governed by similar regulations as vehicles weighing more than twice its size.
Consider the variety of regulations related to registering a vehicle with the Department of Transportation or the authorization required for a driver to cross state lines.
These are just some of the additional complexities that transportation companies need to understand.
Failure to comply with many of these regulations can have significant financial implications such as a sizable fine for each violation. In addition, a lack of compliance can result in a significant operational impact should the enforcement officer place the vehicle or driver "out of service."
While a complete listing of the extensive FMCSA regulations is provided on their website (www.fmcsa.dot.gov), motor carriers are often looking to their insurance broker and agent for assistance in understanding these regulations and navigating the changing risk climate.
Because of the complicated nature of these regulations, it is recommended that brokers and agents consult a seasoned transportation wholesaler who can offer the depth of expertise and market relationships that are required to place these difficult pieces of business.
Education
Another important resource to consult is the Motor Carrier Insurance Education Foundation, a nonprofit organization designed for and dedicated to providing education to insurance professionals. The curriculum focuses on the operation, government oversight and risk management needs specific to the transportation industry.
In addition, the Foundation has developed and filed the industry's first and only motor carrier-specific insurance designation, "Transportation Risk Specialist" ().
This designation offers professionals engaged in serving the transportation industry an opportunity to be officially recognized for their unique expertise. In the last year, only 137 professionals received this designation.
The knowledge and expertise is out there – you just have to know where to look.
Was this article valuable?
Here are more articles you may enjoy.
From This Issue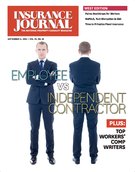 Top Workers' Comp Writers; Trucking; Residential Contractors