In a room packed with insurance industry professionals, an undeniable air of gratitude hung over those who were doing the giving.
Speaker after speaker came up and talked to the audience at a charity event about how grateful they were to be in the industry, and to be able to give back to the community.
"We're fortunate to be in this industry," said Jerry Pickett, CEO of the Liberty Company Insurance Brokers and chair of the Horizon Award Gala.
The annual Insurance Industry Charitable Foundation gala in late March drew hundreds from the industry to raise funds and celebrate the spirit of philanthropy.
This year's IICF event was held at the Natural History Museum in Los Angeles. It featured nonprofit Make-A-Wish, which grants the wishes of children with life-threatening medical conditions.
It also honored this year's Golden Horizon Award winner Mark Wells, editor, CEO and publisher of Wells Media Group Inc., the parent company of Insurance Journal and several other industry publications.
Among the many reasons cited for giving him the prestigious award was that Wells has directed his company to donate more than $1.2 million over the past 10 years to insurance-related charities.
Wells closed the ceremony with a brief but heartfelt speech that encapsulated the prevailing attitude of the evening.
The gratitude expressed by Pickett during his opening presentation was for being in an industry that's able and willing to give back. The IICF's Western division this year awarded $424,260 in grants from fundraising efforts in 2016. That marks a record high in grant awards for the Western division, benefiting 44 nonprofits.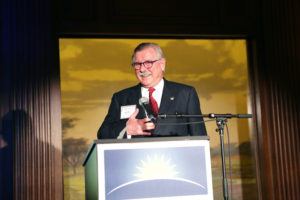 Fellow presenter Jon Axel, IICF Western division chair and senior vice president of Hub International Insurance Services Inc., said those funds were raised through events like the IICF Week of Giving in October 2016.
"This year we plan on hosting events in every hub in our Western division," he said. There are six IICF hubs in California, and chapters in Arizona, Colorado and Washington.
Proceeds from the gala helped raise $218,000 to benefit the IICF Community Grants Program, $20,000 of which is earmarked for Make-A-Wish Los Angeles, according to Melissa-Anne Duncan.
Wish Kid Ambassador Theo Strum and his mother, Heidi Levine, spoke at the event to thank the audience for supporting the charity and to tell their story.
At age 10 Strum was diagnosed with enthesitis related polyarticular juvenile rheumatoid arthritis. He also has been diagnosed with psoriatic arthritis and fibromyalgia since his first diagnosis. Now age 15, it's a struggle for him to go out and play and do the normal things that kids his age do, he said.
The 10th grader's wish was to go to Tokyo Disneyland and Tokyo Disney Sea. The charity helped realize that dream in June 2016.
Pickett's introduction of the award recipient noted Wells Media's long-term commitment to insurance-related charities, and that the company donates 10 percent of the proceeds from its annual charity issue each year.
"This year's recipient, Mark Wells, epitomizes the heart of this award," Pickett said.
Wells, who serves on a number of boards, including the board of the National Insurance Industry Council for City of Hope, contributes regularly to the Matthew Wells '88 Memorial Fund at Flintridge Prep, which he established in 2002 to honor his late son.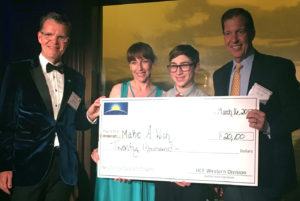 His role as head of Wells Media has him overseeing the operations of Insurance Journal, Claims Journal, MyNewMarkets, Insurance Journal's Academy of Insurance and Carrier Management.
Throughout the day that Wells was notified about the award he tried to digest the news, until hours later he had an epiphany.
"That night I was lying in bed … and I realized this isn't about me, it's about you," Wells said.
Wells illustrated his point using the aforementioned annual charity issue, which he said gets far too many tales of agency and carrier good deeds to put in one magazine. The issue often spans roughly 40 pages.
"We could fill three or four issues with all of your activities," Wells said.
He ended his acceptance with more gratitude.
"I wanted to say thank you for what you've done," Wells said. "Keep doing it."
Topics Market
Was this article valuable?
Here are more articles you may enjoy.
From This Issue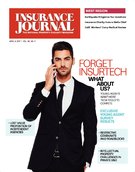 The Young Agents Issue – with Survey Results; Directors & Officers Liability; Public Entities & Schools