Businesses are buying more cyber insurance and prices for the coverage are stabilizing, according to the latest survey by The Council of Insurance Agents and Brokers.
According to the survey of about 100 commercial lines brokers, about 32 percent of respondents' clients purchased some form of cyber liability and/or data breach coverage in the last six months, compared to 29 percent in October 2016.
Of policyholders who purchased cyber coverage in the last six months, 44 percent increased their coverage levels while 56 maintained their existing level of coverage.
The Council attributes the slow but steady increase in sales to several factors: organizations of all sizes are becoming more aware of the prevalence of cyber risks; third party contractual obligations have increased; there is better pricing with more product options; there is increased capacity in the market; and the risk for cyber attacks continues to increase in both volume and severity.
The last six months also saw trend changes in pricing, as 85 percent of respondents noted that premium pricing generally stayed the same or decreased. Just a year ago, nearly 40 percent reported an increase in premium pricing, proving that policies are becoming more affordable.
Sales of standalone coverage continue to outpace those for embedded coverage.
Roughly 72 percent of respondents' clients chose standalone over embedded coverage in the past six months and comments suggest that brokers view embedded cyber coverage as inadequate.
The typical cyber policy limit has doubled to $6 million, over what it was in October 2016, according to the brokers.
When brokers were asked why their customers purchase cyber insurance, they cited risk transfer as the number one driver for large entities (63 percent) and SMEs (36 percent). For SMEs, contract compliance (29 percent) and post breach resources (22 percent) were also key factors in the purchase of cyber coverage. But many respondents noted that a combination of these factors is behind the purchasing decision.
"As brokers become more experienced with cyber exposures, they are growing their knowledge of this new breed of risk," said Ken A. Crerar, president and chief executive officer of The Council. "This is a good sign, as brokers play an increasingly crucial role in both cyber risk mitigation and post-event response."
From This Issue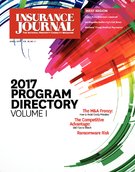 Program Directory, Volume I; Data & Analytics