State Fund's Eureka Office Relocates
State Compensation Insurance Fund's Eureka Office has moved its operations to the Humboldt Bank Plaza located at 2440 Sixth Street in Eureka, California.
State Fund's Eureka Office provides complete worker's compensation insurance services to employers located from northern Mendocino County to the Oregon border and inland to Trinity County.
National Advantage Ins. Enters Nevada
Clifford Mapes, president and CEO of Tustin, Calif.-based National Advantage Insurance Services Inc., recently announced that he has been appointed and approved for writing several of his insurance products in the state of Nevada.
Mapes continues to expand his transportation programs nationally. The line up of insurance risks for which National Advantage Insurance Services Inc. will be writing in Nevada includes but is not limited to: motor truck cargo, commercial auto, professional liability, dwelling fire, personal umbrella and commercial property. Nevada producers are welcome visit www.NationalAdvantageIns.com for more information, or call Mapes directly at (800) 401-1015. Fax is (800) 595-1025.
National Advantage Insurance Services Inc. is headquartered in Tustin, California and licensed in many states. They specialize in commercial auto/transportation, dwelling fire/homeowners, inland marine, motor truck cargo, personal umbrellas, professional liability and property, including COC.
Acordia Calif. to Cease Workers' Comp Programs, Operations
Acordia of California Insurance Services Inc.'s Wholesale P/C Division has announced it has decided to cease their workers' compensation programs and wholesale operations.
Effective Sept. 1, 2005, Acordia will no longer be accepting new business and will be nonrenewing all existing in-force renewal business for workers' comp. The company said they will continue to honor any outstanding quotes through Aug. 31, 2005, and will continue to manage and service all current in-force renewal business until policy expiration and final audit.
On their Web site, Acordia cited the company's overall focus and change in business model and marketing strategy as the reason for the discontinuation of the program.
The company suggests that brokers seek replacement coverage for all policies currently underwritten with Everest National Insurance Company expiring Sept. 1, 2005 and after. They may also access other wholesalers or intermediaries that are currently appointed with American All Risk Insurance Services to obtain a new or renewal quote with National Liability & Fire Insurance Company.
Aon Consulting Opens Vegas Office
Aon Consulting, the human capital and management consulting organization of Aon Corporation, announced the opening of a new office in Las Vegas, Nevada.
Karen Roberts, a senior vice president with Aon Consulting, said, "We are excited to be a part of the dynamic Nevada business environment by having a presence here in Las Vegas. Aon has the breadth of services and talent to fully support the total business needs and explosive growth this community is experiencing."
Located near the airport at 376 Warm Springs Road, Aon Consulting Las Vegas will provide human capital consulting services to public and private sector organizations throughout Nevada.
To submit a Business Moves announcement,
e-mail cbeisiegel@insurancejournal.com.
bold
ital
• bullet
From This Issue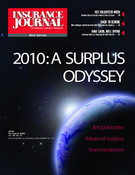 Surplus Odyssey