Beacon Insurance Group
Wichita Falls-based Beacon Insurance Group, which includes Beacon National Insurance Company, First Preferred Insurance Company, Petrolia Insurance Company and Beacon Lloyds Insurance Company, announced it has earned a financial stability rating (FSR) of "A," Exceptional, from Demotech Inc.
The Beacon Insurance Group is an admitted carrier in Texas, Arkansas and Tennessee writing both personal lines and commercial lines insurance through 385 independent insurance agents.
Harbor Insurance Co.
Harbor Insurance Company also reported it has earned a Financial Stability Rating (FSR) of "A," Exceptional, from Demotech. Harbor Insurance is a wholly owned subsidiary of AHIC Acquisition Corporation, and is organized under the laws of the State of Oklahoma as a stock property and casualty insurance company. It writes nonstandard automobile liability and physical damage
coverage policies and motorcycle policies through over 500 independent insurance agents.
Statewide General Agency solicits and accepts applications, issues and countersigns policies, and markets Harbors products throughout Oklahoma, and collects and receives premiums in trust for the company.
AirSure Ltd., Aero Insurance
Officials of two of the nation's largest aviation insurance brokerage firms: AirSure Limited and Aero Insurance, a division of the Van Gilder Insurance Corporation, announced a definitive merger agreement under which Aero Insurance will merge with AirSure Limited. The new company will be owned by the Van Gilder Insurance Corporation and will operate under the AirSure Limited name, with Bill Behan serving as managing director and Larry Mattiello as president.
Aero Insurance is a long time provider of aviation insurance brokerage services throughout North America, and is a division of the Van Gilder Insurance Corporation, an independent insurance brokerage in the Rocky Mountain Region. AirSure is a privately held aviation insurance brokerage firm based in Denver.
In addition to serving businesses and individuals in the worldwide aviation market, AirSure Limited is also program administrator for the National Air Transportation Association's Workers' Compensation Safety Group Program.
The new AirSure Limited will maintain offices in both Dallas and Denver.
Aon, Swett & Crawford
Aon Corporation has signed a definitive agreement to sell Swett & Crawford, its U.S.-based wholesale broking operation, to an investor group including Dallas-based Hicks, Muse, Tate & Furst Incorporated, Banc of America Capital Investors and Emerald Capital. Merrill Lynch acted as financial advisor to Aon.
The closing of the transaction is subject to normal and customary conditions.
HMTF partner Andrew Rosen noted that HMTF, which will "have a significant equity stake" in Swett & Crawford, "believes Swett & Crawford can build upon its already outstanding competitive position, further grow its specialty underwriting and brokerage activities both organically and strategically, and create significant value."
From This Issue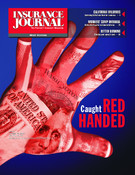 Financial Services