General Motors, Shanghai
General Motors Corp. received approval to open an office in Shanghai as a step toward beginning insurance operations in China.
Detroit-based GM said that Motors Insurance Corp., part of the insurance unit within the automaker's General Motors Acceptance Corp. financing subsidiary, received approval from the Chinese Insurance Regulatory Commission to establish the office.
The agency also approved the appointment of Henry Dai as chief representative of the GM insurance unit in Shanghai.
The Shanghai office will seek to conduct market research and feasibility studies. GM said its insurance division will be eligible to apply for an insurance license after two years.
c:Copyright 2006 Associated Press. All rights reserved. This material may not be published, broadcast, rewritten or redistributed.
Berkshire Hathaway, Applied Underwriters
Berkshire Hathaway completed its acquisition of Applied Underwriters and all of its subsidiaries including its North American Casualty insurance companies.
Applied Underwriters provides workers' compensation and business services for small- and medium-sized enterprises. Founded in 1994 by Sidney R. Ferenc and Steven Menzies, it is headquartered in Foster City, Calif., and has its main operations center in Omaha, Neb.
Hub International, Westar
Hub International Ltd. purchased Westar Insurance Managers, based in Kirkland, Wash. The company will become part of Hub International's Seattle-based operation, HUB Northwest. Terms of the transaction were not disclosed.
Westar has annual revenues of approximately $2.1 million and provides customers with general lines capabilities and expertise in aviation risk and personal insurance. Westar Principals Doris D. Perry, Susan E. Carroll and Laurie P. Hutcherson will join HUB Northwest.
Aon Subsidiary, JLT Services
Affinity Insurance Services Inc., a subsidiary of Aon Corp., acquired a division of JLT Services Corp. specializing in program administration for association-sponsored insurance programs.
The JLT division has 50 employees with offices in Chicago and Latham, N.Y., most of whom will be joining the Aon operation. Affinity has 1,000 employees in its 30 offices and serves 13 million customers.
Other association member clients of Affinity include those representing doctors, financial professionals, lawyers, insurance agents, travel agents and nurses whose time is devoted to professional endeavors.
HRH, Benchmark Insurance
Richmond, Va.-based Hilb Rogal & Hobbs Co. purchased a book of accounts from Benchmark Insurance Co., an underwriter of retail grocers. Terms of the transaction were not disclosed.
With a revenue base of just more than $900,000 in 2005, the accounts were purchased by HRH's Oklahoma operation and will be managed by Branch President Frank Shadid. Benchmark will continue to do business as an insurance company.
Liberty, Puerto Rico
Liberty International Underwriters, a division of the Boston-based Liberty Mutual Group, opened an office in San Juan Puerto Rico, as part of its overall strategy of getting closer to brokers. The new office joins LIU's 2006 line up of new office openings in Hong Kong, Houston and Los Angeles.
"Arlene Rivera, who leads the San Juan operation, is both a local general liability expert and a direct conduit to LIU's excess umbrella, environmental coverage and Specialty Casualty financial lines — employment practices liability (EPL) and D&O," said the announcement. The San Juan office underwrites risk for small, medium and large financial lines accounts and larger casualty policies.
Brokers can reach Arlene Rivera at (787) 289-7892; ask for Liberty International Underwriters.
Zurich, Beijing
Zurich Financial Services Group was granted a business license to establish a general insurance branch in Beijing. Both the China Insurance Regulatory Commission and the State Administration for Industry and Commerce have approved Zurich's application to become the first foreign insurer to be granted a license to establish a general insurance branch in Beijing.
The new unit, Zurich Insurance Co. Beijing Branch, will focus on serving corporate customers, including foreign customers with activities in China and large- and medium-sized enterprises from China, particularly those with business overseas.
Johnny Chen, CEO of Zurich's Greater China business, oversees operations in Mainland China, Hong Kong and Taiwan. The general manager is Steven Zhang.
Zhang joined Zurich in 1997 as the chief representative of the Zurich Insurance Co. Beijing Representative Office. Before joining Zurich, he worked 10 years for the People's Insurance Co.
AIG Subs, China
American International Group's life and general insurance subsidiaries in China, American International Assurance Co. Ltd. and AIU Ins. Co. Inc. received approvals from the China Insurance Regulatory Commission for expansion throughout Guangdong province. AIG also received approval for its life insurance subsidiary for expansion throughout the Jiangsu province.
Commenting on the news, AIG Senior Vice Chairman for Life Insurance Edmund S.W. Tse said, "These approvals will lead to a much larger sales base for AIG companies in China. Since AIG's return to China in 1992, we have witnessed the tireless efforts of the Chinese government and insurance regulators to promote and develop their insurance industry … We are pleased to extend AIG's reach in these two major provinces and look forward to providing additional financial security to Chinese people."
Idaho Agency, ISU Network
ISU president, T.J. Ryan III, announced the addition of Haddock & Associates of Couer d'Alene, Idaho, to ISU's national network of agencies.
Founded by principal Randy Haddock in 1991, the agency has several branch offices in the state and more than 20 employees. Haddock said he was excited about the role ISU could play in his agency's growth plans.
ISU is a national network of more than 90 independent agencies with offices nationwide and combined annual premiums in excess of $1 billion dollars.
RMS, China Earthquake Administration's Institute of Engineering Mechanics
Newark, Calif.-based Risk Management Solutions formed a partnership with the China Earthquake Administration scientific and engineering arm, the Institute of Engineering Mechanics (IEM).
"This partnership will span a broad host of initiatives designed to promote greater awareness and understanding of natural hazard risk and exposure throughout China," said Paul VanderMarck, RMS executive vice president of products.
The first product from the collaboration will be a probabilistic earthquake model covering all of China. Recognizing the growing importance of this region for catastrophe risk management, RMS will be releasing the model in early 2007.
RMS' relationship with IEM further strengthens long-standing ties with the Chinese seismic and insurance community, including recent participation in the 2004 International Conference on Continental Earthquakes in Beijing, and the subsequent publication of the 2005 RMS white paper "Creating a Technical Foundation for Earthquake Insurance in China." The new China earthquake model builds upon the recently released RMS Taiwan Earthquake and Hong Kong Typhoon models.
IEM is organizing the next world conference on earthquake engineering, to be held in Beijing in October 2008. For information, visit http://www.iem.net.cn/.
Everest, Holdren and PrideMark
Everest Insurance, Holdren Insurance Agency and PrideMark Insurance Agents/ Brokers have combined organizations to form PrideMark-Everest Insurance Services. The three agencies now operate from PrideMark's building located at 1820 E. First St., Suite 500, Santa Ana, Calif. The new entity is a member of the Leavitt Group, a support organization for member independent insurance agencies across the United States.
Angelo Maroutsos, managing principal, said in California, PrideMark-Everest along with the other Leavitt affiliates, will approach $400 million in written premiums.
The Leavitt Group is a privately held firm with 1,200 employees, more than 100 offices and premium writings expected to exceed $1.2 billion by year-end 2006.
Everest Insurance Services specializes in workers' compensation, property, general liability, manufacturing and transportation sectors. Holdren Insurance Agency began as McCord & Holdren in 1965 and now has 100 employees in California, Washington and Arizona. PrideMark Insurance opened its doors in 1936 as J.E. Wells Co. in Los Angeles, changing its name to PrideMark in 1986. PrideMark provides businesses and residents with commercial and personal insurance coverage and risk management services.
Acordia, Key Insurance Agency
Acordia Inc. acquired the assets of Key Insurance Agency LLC in Wasilla and Anchorage, Alaska. This is the Acordia's 17th acquisition in 11 states during the past three years — the second in Alaska.
The acquisition closed May 1, 2006. Terms of the transaction were not disclosed.
Key's professional staff, which specializes in transportation and small construction, will continue serving customers from the Acordia office at 1500 W. Benson Boulevard, Ste. 102 in Anchorage, Alaska. Phone: (907) 297-7300.
From This Issue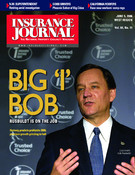 BIG \'I\' BOB Rusbuldt is on the job