Arthur J. Gallagher, Taylor Benefits
Arthur J. Gallagher & Co. has acquired Utah-based Taylor Benefits. Terms of the transaction were not disclosed.
Established in 1996, Taylor Benefits offers employee benefit consultation and brokerage services for their Western clients. They specialize in group medical, dental, life and disability insurance with an emphasis on consumer directed plans such as health savings accounts, health reimbursement arrangements and cafeteria plans.
Doug Taylor and his associates will continue to operate in their current location in Holladay, Utah, under the direction of Norbert Chung, western regional executive vice president of Gallagher Benefit Services Inc., a subsidiary of Arthur J. Gallagher & Co.
Meadowbrook Insurance Group, ProCentury Corp.
Michigan-based Meadowbrook Insurance Group Inc. is acquiring ProCentury Corp. in a transaction valued at approximately $272.6 million in cash and stock to be paid to ProCentury shareholders. The transaction is expected to be completed in the third quarter of 2008.
Meadowbrook Insurance Group Inc., based in Southfield, Mich., specializes in alternative risk management services for agents, professional/trade associations, and small to medium-sized insureds.
ProCentury Corp. is a specialty property/casualty insurance holding company based in Columbus, Ohio. Its subsidiary, Century Surety Co., underwrites property/casualty insurance for small and mid-sized businesses. Century Surety Co. primarily writes excess and surplus lines insurance and markets its products through general agents.
Under the merger terms, ProCentury shareholders will be entitled to receive, for each ProCentury common share, either $20 in cash or Meadowbrook common stock having a value of $20, subject to adjustment as described below.
The price represents a premium of 33 percent to the 30-day volume-weighted average sale price of ProCentury common shares, according to the companies.
The combined entity will adopt and operate under the Meadowbrook name and will continue to trade on the NYSE under the ticker symbol "MIG."
Robert S. Cubbin, Meadowbrook CEO, will continue in his current role in the post-merger combined entity and two ProCentury board members will join Meadowbrook's board of directors.
Meadowbrook's total gross written premium for 2007 was $346.5 million and ProCentury's was $238.3 million. Total shareholders' equity at Dec. 31, 2007, for Meadowbrook and ProCentury was $301.9 million and $161.0 million, respectively.
The acquisition will expand and complement Meadowbrook's specialty lines capabilities with ProCentury's insurance professionals and product expertise in the excess and surplus lines market. Both of the Midwest-based companies are said to have similar employee cultures.
"The combination of these two companies creates a diversified platform and gives both companies the size and product depth to compete at a level that couldn't be achieved as separate entities," said Cubbin. "We believe there are significant revenue opportunities for both sides, as well as cost savings potential."
Meadowbrook said it expects to finance the cash portion of the purchase price through a combination of cash and debt. Completion of the transaction is subject to various closing conditions, including regulatory approvals and approval by Meadowbrook and ProCentury shareholders. Meadowbrook anticipates the transaction to be accretive to earnings per share and accretive to book value in 2008 and beyond.
Aon Corp., Gallagher U.S./UK Reinsurance
Aon Corp. has announced that it is acquiring "substantially all of Gallagher Re's U.S. and U.K. reinsurance brokerage business." In addition, a team of industry professionals from Gallagher Re, based in the U.S. and U.K., will join Aon Re Global.
In a companion bulletin, Arthur J. Gallagher & Co. said it would receive initial payments of approximately $30 million in cash and potentially an additional $15 million in cash based on revenues generated in the 12 months following the close of the transactions.
Gallagher reports that the U.S. part of the deal has already been completed, but the UK part of the transaction is "subject to certain conditions and is expected to be completed on or before April 30, 2008."
Michael D. O'Halleran, executive chairman of Aon Re Global, noted the deal would result in Aon Re having a "significantly larger presence in the U.S. accident, health and life markets, along with enhanced capabilities in the U.K. specialty, casualty and financial institutions business." O'Halleran added that Gallagher Re's investment in index-based capital markets solutions will align well with his company's integrated capital solutions strategy. "We will be able to utilize our scale in accounts, analytics and services to drive innovation and significantly improve margins over a larger base, delivering immediate impact to our clients," he said.
Industry observers have characterized the deal as not particularly lucrative for Gallagher. The company said it would treat the sale as "a component of discontinued operations," starting in the first quarter of 2008. It will "record its best estimate of the sales proceeds and related charges as follows: (in millions) Estimated sales proceeds $38 Non-cash loss on sale (40) Cash loss on sale (20) Net pretax loss on sale $(22)."
Gallagher said it would "adjust its best estimate of the sales proceeds to be received and will also record approximately $15 million in related lease termination costs in the third or fourth quarter 2008 when it winds down those leased facilities."
Larson & Co., Rosenberger Schwartz & Co.
Utah-based CPA firm Larson & Co. has merged with Los Angeles-based Rosenberger Schwartz & Co. The merged firm, Larson & Rosenberger, combines 32 years of insurance auditing and tax expertise, as well as regulatory compliance advisory services.
Individually, the firms were recently ranked 19th and 31st nationally by A.M. Best as top insurer auditing firms based on premium dollars audited. As a result of the merger, Larson & Rosenberger expects to be ranked in the top 15 nationally and top five in the western states.
The new firm will maintain offices in Los Angeles, Salt Lake City, Moab and Spanish Fork, Utah. In addition to their insurance specialty, the firm's services also include tax planning and preparation, small business consulting and accounting, not-for-profit and government auditing, and business valuations.
From This Issue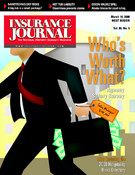 2008 Agency Salary Survey; Homeowners and Auto/Antiques and Collectibles; Hospitality Risks Directory