ACE, Aon
ACE Limited has completed its acquisition of 100 percent of the outstanding shares of Combined Insurance Co. of America and certain of its subsidiaries from Aon Corp. for $2.56 billion in cash. The closing price exceeded the $2.4 billion originally reported. ACE explained: "In accordance with the purchase agreement, the purchase price reflects on a dollar-for-dollar basis an increase to Combined's net worth that occurred between the signing and the closing of the transaction."
Zurich North America
Zurich North America Commercial said it will reduce approximately 400 positions or four percent of the staff that support its business division, primarily in non-market-facing roles.
Mike Foley, CEO of NAC, said the positions eliminated "were primarily non-market-facing roles to ensure our actions will not disrupt customer service."
Liberty Mutual Specialty Products Group
Liberty Mutual Agency Markets has a new product line and distribution channel for its newly-created Specialty Products Group, which was formed by the consolidation of Liberty Mutual Surety, the former Ohio Casualty Bond and other specialty lines.
The group is comprised of three operating units:
Liberty Agency Underwriters — Bond, which offers domestic small- to middle-market surety and fidelity capacity for businesses and individuals; it is a market for construction performance, payment, and bid bonds, license and permit, probate, public official, and other commercial surety bonds, fidelity bonds, and financial institution bonds, all of which will be sold through independent agents.
Liberty Agency Underwriters — Excess Casualty and Programs, which offers unsupported lead umbrella, excess liability, and excess capacity policies to, as well as a national network of umbrella/excess appointments; it includes Liberty Agency Underwriters' Programs unit.
Business Development Group, which provides product management oversight for specific specialty lines offered by the regional companies; current lines within the group include custom homebuilder, inland marine, Midwest farm, and schools program.
"The creation of the Specialty Products Group gives our agents a broader product line, a wider customer base, and access to the expertise necessary to write these specialty lines," said John Busby, who was appointed senior vice president, Agency Markets, and chief operating officer, Specialty Products Group, following Liberty Mutual Group's acquisition of Ohio Casualty Corp. in August 2007.
Last year, Liberty Mutual Surety, Bond, Excess Casualty, and Programs operations collectively wrote more than $440 million in direct written premium.
Mitchell Fair Isaac
Claims management and information firm Mitchell International, Inc. will acquire the workers compensation medical cost containment and bill review business of Fair Isaac Corp.
Mitchell currently supplies the property and casualty claims and auto collision repair industries with information nd management services. This acquisition will allow it to expand into workers' compensation claims arena. Alex Sun, president and CEO of Mitchell, said he sees an opportunity to unite the "collective expertise of our auto and workers compensation teams…"
Fair Isaac offers consulting, analytics and software. Fair Isaac also runs the consumer credit scoring Web site, www.myFICO.com.
Markel, Specialized Insurance
Markel Insurance Co. has acquired Specialized Insurance Inc., of Blair, Neb. Specialized Insurance provides admitted garage program coverage with concentration in California, Oregon, Arizona, Washington, Nevada, and Colorado. The program covers non- franchised used car dealers, repair shops, gas stations, body shops, oil change centers and car washes.
The transaction closed on April 1. The Specialized office in Nebraska will become a Markel Insurance Co. underwriting and marketing office, and will continue to service existing and new accounts. Specialized Insurance has been a general agency for Markel since 2000.
Energy Risk, PWIB, Towerstone
IMA Financial Group Inc. recently formed Towerstone Inc., a wholesale insurance broker and managing general agency with expertise in energy and construction insurance. Towerstone is the result of the merger of Energy Risk Associates Inc. (ERA) with the recently acquired assets and employees of R.A. Stough LLC, d/b/a PWIB Texas.
From This Issue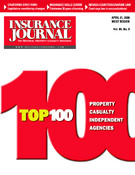 Top 100 Retail Agencies; Medical Professional Liability; Top Performing P/C Insurers: 1Q