ACE, Aon
ACE Limited has completed its acquisition of 100 percent of the outstanding shares of Combined Insurance Co. of America and certain of its subsidiaries from Aon Corp. for $2.56 billion in cash. The closing price exceeded the $2.4 billion originally reported. ACE explained: "In accordance with the purchase agreement, the purchase price reflects on a dollar-for-dollar basis an increase to Combined's net worth that occurred between the signing and the closing of the transaction."
Atlantic American, Columbia Mutual
Atlanta-based Atlantic American Corp. sold its regional property and casualty operations to Columbia Mutual Insurance Co. of Columbia, Mo. Included in the sale are Association Casualty Insurance Co., Association Risk Management General Agency Inc., and Georgia Casualty & Surety Co.
The sale was originally announced on Dec. 27, 2007. At the same time, the company announced net income of $7.3 million for 2007. Total revenue for 2007 was $123 million.
Zurich North America
Zurich North America Commercial said it will reduce approximately 400 positions or four percent of the staff that support its business division, primarily in non-market-facing roles. Mike Foley, CEO of NAC, said the positions eliminated "were primarily non-market-facing roles to ensure our actions will not disrupt customer service."
First Financial, Somers-Pardue
Banker and insurance broker First Financial Holdings Inc. of Charleston, S.C., said its subsidiary First Southeast Insurance Services Inc. bought The Somers-Pardue Agency Inc. for $18.8 million Somers-Pardue, an independent insurance agency based in Burlington, N.C., will retain its name and current management and staff, First Financial said. First Financial is the holding company of First Federal Savings and Loan Association of Charleston.
Liberty Mutual Specialty Products Group
Liberty Mutual Agency Markets has a new product line and distribution channel for its newly-created Specialty Products Group, which was formed by the consolidation of Liberty Mutual Surety, the former Ohio Casualty Bond and other specialty lines.
The group is comprised of three operating units:
Liberty Agency Underwriters — Bond, which offers domestic small- to middle-market surety and fidelity capacity for businesses and individuals; it is a market for construction performance, payment, and bid bonds, license and permit, probate, public official, and other commercial surety bonds, fidelity bonds, and financial institution bonds, all of which will be sold through independent agents.
Liberty Agency Underwriters — Excess Casualty and Programs, which offers unsupported lead umbrella, excess liability, and excess capacity policies to, as well as a national network of umbrella/excess appointments; it includes Liberty Agency Underwriters' Programs unit.
Business Development Group, which provides product management oversight for specific specialty lines offered by the regional companies; current lines within the group include custom homebuilder, inland marine, Midwest farm, and schools program.
"The creation of the Specialty Products Group gives our agents a broader product line, a wider customer base, and access to the expertise necessary to write these specialty lines," said John Busby, who was appointed senior vice president, Agency Markets, and chief operating officer, Specialty Products Group, following Liberty Mutual Group's acquisition of Ohio Casualty Corp. in August 2007.
Last year, Liberty Mutual Surety, Bond, Excess Casualty, and Programs operations collectively wrote more than $440 million in direct written premium.
Unitrin, Primesco
Unitrin, Inc. has completed its previously announced acquisition of Primesco, Inc. of Decatur, Alabama, in a cash merger transaction valued at $95.6 million.
Primesco's wholly-owned subsidiaries, Mutual Savings Life Insurance Co. and Mutual Savings Fire Insurance Co., specialize in the sale of life, health and fire insurance products to persons of modest financial means in Alabama, Georgia, Mississippi and several other states in the Southeast. They employ a network of employee agents who call on customers in their homes to sell and service products and collect premiums. For the year ended Dec. 31, 2007, Mutual Savings and Mutual Savings Fire had total premium revenues of approximately $52.6 million.
From This Issue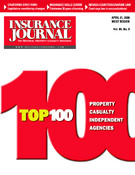 Top 100 Retail Agencies; Medical Professional Liability; Top Performing P/C Insurers: 1Q