Hull & Co., Big Sky Underwriters, Powers & Co.
Hull & Co. Inc. acquired substantially all of the assets of Missoula, Mont.-based Big Sky Underwriters Inc.
"The people of Big Sky are well respected in the Northwest marketplace," said Bob McGrew, executive vice president of Hull.
Big Sky Underwriters was founded in 1955. The business will continue to operate from its offices in Missoula as a division of Hull & Co. M. Ruth Havican will remain onboard for the transition, and Scott L. Tuxbury will become the head of office for Big Sky going forward.
With just more than $2.2 million in revenue, Big Sky adds to the growing Northwest operations of Hull, according to Tim Neff, senior vice president and head of Hull's Western Operations.
"In the course of a few months we have established a very strong presence in the Northwest portion of our country and we are looking forward to growing there," Hull said.
In addition to Missoula, Big Sky has offices in Oregon and Washington, and also does business in the states of Wyoming and Idaho.
Hull & Co. Inc. is a subsidiary of Brown & Brown Inc.
Additionally, a subsidiary of Florida-based Brown & Brown Inc. has acquired the assets of Powers & Co.
Powers & Co. is an insurance agency serving clients in California, Nevada and Arizona, with annualized revenues of approximately $11.2 million. Richard R. "Rich" Powers, president of Powers & Effler Insurance Brokers Inc., d/b/a Powers & Company. Insurance Agents and Brokers, of Rocklin, Calif., and his staff will continue to operate out of their existing office as a new stand-alone Brown & Brown profit center.
Michael Paschke, regional executive vice president of Brown & Brown Inc., stated, "We are pleased to welcome Rich and his staff to our growing presence in California. This represents Brown & Brown's first retail operation in the greater Sacramento area. However, Rich's team will provide us with expanded resources and service capabilities for our clients throughout California and the West."
Brown & Brown Inc. and its subsidiaries offer insurance and reinsurance products and services, as well as risk management, third-party administration, managed health care, and Medicare set-aside services and programs.
American E&S, Network E&S' Brokerage Business
American E&S Insurance Brokers of San Francisco has acquired Network E&S' brokerage book of business. Network E&S, a California-based wholesale broker, has agreed to sell the renewal rights of its existing brokerage business, along with the current in-force brokerage business.
"In addition to acquiring Network's book of business, we are excited to welcome Dina Zuger, who ran Network's San Francisco office, to our team," said Denis Brady, president of American E&S. "We are working hard to ensure a smooth transition and expect a positive outcome for everyone involved."
Liberty Mutual
Liberty Mutual Agency Markets announced a new product line and distribution channel for its newly-created Specialty Products Group, which has been formed by the consolidation of Liberty Mutual Surety, the former Ohio Casualty Bond and other specialty lines.
The group is comprised of three operating units:
Liberty Agency Underwriters — Bond, which offers domestic small- to middle-market surety and fidelity capacity for businesses and individuals. It is a market for construction performance, payment, and bid bonds, license and permit, probate, public official, and other commercial surety bonds, fidelity bonds, and financial institution bonds, all of which will be sold through independent agents.
Liberty Agency Underwriters — Excess Casualty and Programs, which offers unsupported lead umbrella, excess liability, and excess capacity policies to, as well as a national network of umbrella/excess appointments. It includes Liberty Agency Underwriters — Programs unit.
Business Development Group, which provides product management oversight for specific specialty lines offered by the regional companies; current lines within the group include custom homebuilder, inland marine, Midwest farm, and schools program.
"The creation of the Specialty Products Group gives our agents a broader product line, a wider customer base, and access to the expertise necessary to write these specialty lines," said John Busby, who was appointed senior vice president, Agency Markets, and chief operating officer, Specialty Products Group, following Liberty Mutual Group's acquisition of Ohio Casualty Corp. in August 2007. "This new operation reinforces Agency Markets' position as the nation's largest regional provider of property and casualty products distributed through independent agents," he said.
Last year, Liberty Mutual Surety, Bond, Excess Casualty, and Programs operations collectively wrote more than $440 million in direct written premium, the company said.
Markel Insurance, Specialized Insurance
Markel Insurance Co. acquired Specialized Insurance Inc., of Blair, Neb. Specialized Insurance provides admitted garage program coverage primarily in the western United States, with concentration in California, Oregon, Arizona, Washington, Nevada, and Colorado. The program covers non-franchised used car dealers, repair shops, gas stations, body shops, lube and tune centers, and car washes.
The transaction closed on April 1, 2008. The Specialized office in Nebraska will become a Markel Insurance Co. underwriting and marketing office, and will continue to service existing and new accounts.
"Specialized Insurance has been a general agency for Markel since 2000, and we are pleased to bring this talented group of underwriters in-house," said Britton L. Glisson, president and chief operating officer. "The team brings an extensive understanding of the garage industry to Markel."
According to LuAnne Patak, president of Specialized and now associate vice president/branch manager for Markel, the acquisition will help it to expand the garage program. "We will continue to support our existing producer relationships, and will appoint new agents in several states," she said.
Venbrook Group, Doell & Associates Insurance Agency
Woodland Hills, Calif.-based Venbrook Insurance Services LLC, a wholly owned subsidiary of Venbrook Group, has acquired Doell & Associates, a full service insurance agency based in El Segundo, Calif.
"The acquisition of Doell & Associates not only gives us a strong footprint in the South Bay [of LA County], but also gives us unparalleled expertise in the areas of real estate and habitational insurance," said Mark Ruggles, president of VIS.
Melanie Ransford, owner and principal of Doell, will integrate her operations into Venbrook's Woodland Hills headquarters. "To tap into their relationships with the carrier community as well as their excellent customer service experience is an amazing opportunity for my clients," offered Ransford.
Venbrook Insurance Services provides retail insurance brokerage services, financial services, and safety and loss control consultation to businesses throughout the United States. Venbrook Group specializes in insurance, risk management, claims administration, loss control and safety, captive management and reinsurance placement.
Timothy Gaspar Insurance Services
Timothy Gaspar, a property and casualty insurance agent in the greater Los Angeles area, announced the formation of Timothy Gaspar Insurance Services. Gaspar's new venture will be located within the confines of Financial Management Services (FMS), a 34-year-old financial planning firm that caters to business owners and entrepreneurs. Gaspar has written a variety of property, identity theft and kidnap/ransom policies. He said his singular goal with the new firm is to maintain 100 percent client satisfaction, and that he will go to great lengths to provide privacy and protection for high-profile clients.
Gaspar's property and casualty expertise was honed at Wheatman Insurance Services, where he was the Top Agent and President's Award winner for five consecutive years. Other specialties include life, health, umbrella, commercial, professional, worker's compensation, kidnap and ransom, collectibles and identity theft insurance. The new firm will represent Mercury, Travellers, Hartford, AIG, Progressive and Allied Insurance, among others.
By partnering with FMS, Gaspar will work with his stepbrother Chad Charton, vice president of marketing development, and stepfather Edward Charton, a benefits and estate planning specialist. Together the group will offer individuals, entrepreneurs and executives a range of insurance coverage and long-term financial planning services, Gaspar indicated.
Mitchell, Fair Isaac
Claims management and information firm Mitchell International Inc. agreed to acquire the workers' compensation medical cost containment and bill review business of Fair Isaac Corp.
Mitchell supplies the property and casualty claims and auto collision repair industries with information, workflow and management services. This acquisition will allow the company to expand into workers' compensation claims arena, the company said.
Alex Sun, president and CEO of Mitchell, said he sees an opportunity to unite the "collective expertise of our auto and workers compensation teams."
Fair Isaac offers consulting, analytics and software to help businesses make decisions. Fair Isaac also runs the consumer credit scoring Web site, a href="http://www.myFICO.com" target="_blank">www.myFICO.com.
NIF Pacific
NIF Group Inc. announced that its subsidiary NIF Pacific of Bothell, Wash., has moved offices. The company said because of the growth of its social services program in the West Coast, it needed to expand its capabilities to agents and brokers.
Willis Group Holdings
Willis Group Holdings, in what it described as part of its "increased focus on delivering in-depth capabilities to high growth markets," expanded its International Mergers and Acquisition Practice into Central and Eastern Europe (CEE).
A new team, headquartered in Warsaw, Poland, will be led by Marius Stolarski.
Willis said its CEE M&A Practice "will focus on the provision of due diligence, buying and selling side transactional insurance products, portfolio company requirements and services arising from mergers, acquisitions, divestments, reconstruction and formal insolvencies.
"Clients will include private equity firms, investment banks, strategic investors, professional firms and major corporations. The new structure will enable Willis' global M&A Practice to deliver their expertise to local and international investors via the new CEE M&A Practice and Willis' regional office network," the company said.
Alistair Lester, International Practice Leader of Willis M&A, described the new CEE facility as the "latest step in building a global footprint of M&A capabilities supported by Willis' extensive local office network."
Transatlantic Re
Transatlantic Reinsurance Co.(TRC), a wholly-owned subsidiary of Transatlantic Holdings Inc., has applied to Brazil's regulatory authorities to act as an admitted reinsurer in the Brazilian reinsurance market.
TRC's appointment is subject to regulatory approval. The Brazil reinsurance market is set to open to the private sector effective April 17, 2008.
XL Insurance
Bermuda-based XL Insurance, the global insurance operations of XL Capital Ltd., formed a global Product Development team to address customers' risk management needs.
"The team will work with XL Insurance business units, customers, and brokers to identify, develop and implement innovative new products," the company stated. "They will also evaluate existing products and identify opportunities for enhancement."
XL named Nigel Mortimer, who is based in Bermuda, senior vice president and director of product development for XL Insurance.
In addition, William (Bill) Burrows, based in Hartford, Conn., was appointed vice president of New Product Development — North America. Laurence Flynn, based in London, has been appointed vice president of New Product Development — U.K. and Ireland. XL said it also plans to hire an additional manager in Europe.
Kaufman/Burns & Wilcox, C.J. Coleman
Alan Jay Kaufman, chairman, president and CEO of the national specialty insurance wholesaler H.W. Kaufman Financial Group/Burns & Wilcox, formed a new business entity with London-based C.J. Coleman & Co.
The new venture, called Coleman and Kaufman Ltd. (C&K), will expand Burns & Wilcox's business in the worldwide London market. Presently, Burns & Wilcox is one of the largest providers of contract business to London. In addition, it is expanding its brokerage operations in the London market.
Kaufman said C&K will support many classes of insurance placed in the London market, and that will mean increased writing capabilities for clients.
From This Issue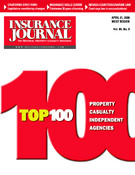 Top 100 Retail Agencies; Medical Professional Liability; Top Performing P/C Insurers: 1Q