AIG
American International Group (AIG) has taken down the most prominent sign at its downtown Manhattan offices. According to a Reuters report, the company replaced the large AIG sign — outside the entrance to its property/casualty offices — as part of its plan to change that operation's name to AIU Holdings Ltd., and re-brand the global insurance operations
The move is designed to "distinguish these well-capitalized businesses from AIG," said a second spokesman. The sign is outside the company's Water Street offices, which around the corner from AIG's 70 Pine Street headquarters, which has long only been marked by an understated brass plaque, inscribed "American International Building."
In addition AIG has said it may sell the headquarter building, as part of its drive to raise funds to repay its debt to the U.S. government.
Willis
Insurance broker Willis will become a new and very high profile tenant of Chicago's iconic Sears Tower. Under an agreement with the building's owners, the tallest building in the Western Hemisphere will be renamed Willis Tower.
By late summer, Willis plans to consolidate five Midwest area offices and move nearly 500 associates into Willis Tower, initially occupying more than 140,000 square feet on multiple floors. Willis said its move to the new space, at $14.50 per square foot, will result in significant real estate cost savings, and that there is no additional cost to the company associated with renaming the building.
"Having our name associated with Chicago's most iconic structure underscores our commitment to this great city, and recognizes Chicago's importance as a major financial hub and international business center," said Joseph J. Plumeri, chairman and chief executive officer, Willis Group Holdings. The building, first opened in 1973, is recognized worldwide as a center for business, and an architectural signature of Chicago's skyline.
The company's North American business is now known as Willis HRH following Willis' October 2008 acquisition of insurance intermediary Hilb Rogal & Hobbs (HRH). Chicago is the headquarters of Willis HRH's Midwest Region.
Allied American Underwriters
National program insurance manager Allied American Underwriters, headquartered in Tampa, Fla., has introduced a new national division specializing in writing personal lines on both an admitted and non-admitted basis. The programs are designed for retail agents that may not have a large personal lines unit or certain programs to have a one-stop shop for personal lines needs.
Vacant home and high valued homeowners policies are now available on a national basis. Other coverages on a regional basis include; condominiums HO-6, dwelling, seasonal homes, rentals, historical homes, fine arts/ collectables, antique/collectable cars, jewelry, flood/excess flood, personal umbrella, builders risk, auto/motorcycle, ATV's, boat/yachts, as well as weddings/family reunions.
According to a spokesman, the firm plans to launch an online and phone quotation system. AAU is affiliated with national insurance wholesaler USG Insurance Services.
Arch
Arch Insurance Co. (Europe) Ltd., a subsidiary of Bermuda-based Arch Capital Group Ltd., received approval from Lloyd's to establish a new syndicate, which is slated to commence underwriting from mid-March this year for risks attaching from the first of April onwards.
Syndicate 2012 will be managed by a newly created managing agent, Arch Underwriting at Lloyd's Ltd. It initially plans to write a composite portfolio comprised mainly of marine, personal accident, property and professional lines insurance.
William Beveridge of Arch Insurance Europe has been appointed active underwriter of Syndicate 2012. James Weatherstone, president and CEO of Arch Insurance Europe, will serve as the CEO of the managing agent, and David Hipkin, chief underwriting officer of Arch Insurance Europe, will also assume responsibility as director of underwriting of the managing agent.
From This Issue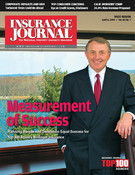 Directors & Officers Liability; Entertainment/Sport/ Special Events; Group Products for P&C Agents/ Benefits Brokerage Directory