Farmers, American International Group (AIG), 21st Century Insurance Co.
Los Angeles-based the Farmers Insurance Group of Companies announced it will acquire American International Group's (AIG's) Personal Auto Group, which includes 21st Century Insurance Co.
The acquisition price is $1.9 billion, subject to post closing adjustments.
The transaction excludes AIG's Private Client Group, which provides property and casualty insurance to high net worth individuals.
Under the agreement, 21st Century Insurance Group, the wholly owned subsidiaries comprising AIG's U.S. personal auto insurance business, will be sold to Farmers Group Inc., a subsidiary of Zurich Financial Services Group. Farmers Group Inc. will sell the underlying insurance entities to the Farmers Exchanges, which Farmers Group Inc. manages, but does not own.
FGI will pay AIG $1.9 billion, consisting of $1.5 billion in cash and $400 million in face amount of subordinated, euro-denominated capital notes backed by Zurich Insurance Co., Zurich's principal operating unit. FGI also will assume 21st Century's outstanding debt of $100 million.
The acquisition is expected to close no later than by the third quarter of 2009 pending customary regulatory approvals, Farmers said.
This acquisition by the Farmers Exchanges will position Farmers as the third-largest personal lines insurer in the United States, according to the company's most current insurance industry data. The acquisition also will position the Farmers Exchanges as the largest auto insurer in several states, including California.
Currently, 21st Century, which includes the former AIG Direct business and Agency Auto business, operates in 49 states and Washington, D.C., The company has more than 2.4 million customers and insures more than 4 million vehicles across the country. The company is the third-largest traditional direct writer of insurance in the United States, Farmers said.
"Farmers takes great pride in being a customer-focused, growth-oriented organization and this acquisition represents the perfect strategic fit," Farmers CEO Robert Woudstra said.
"We are very pleased to reach agreement on a $2 billion transaction, especially in this market environment," said Edward Liddy, AIG's chairman and CEO. "In addition, we are moving forward with discussions for several other transactions, and we continue to evaluate how best to assure the continued strength and success of all of AIG's businesses."
Woudstra said Farmers' national network of insurance agents will benefit from the proposed acquisition by gaining additional multi-line product sales opportunities from 21st Century customers.
"This acquisition will be a significant win for consumers because it will enable 21st Century customers to have access to Farmers agents, who can help them with their other insurance needs, such as homeowners, business, specialty products, life insurance and financial service products," he said.
He added that the acquisition will provide Farmers with a geographically broader and more diverse market presence across the country, including the eastern seaboard — a key target market for future Farmers growth.
Fortegra, Bliss & Glennon, Willis HRH
Jacksonville, Fla.-based Fortegra Financial Corp., an insurance services company specializing in affinity marketing, payment protection, mass marketing and administration, completed the acquisition of Bliss & Glennon Inc. from Willis HRH Inc. The financial terms of the transaction were not released.
Bliss & Glennon is engaged in the business of transaction-based wholesale insurance brokerage and is a surplus lines general insurance agency with binding authority. The completion of this transaction positions Fortegra Financial to continue to expand in its insurance distribution and service business to include wholesale brokerage.
Fortegra's President and CEO Richard S. Kahlbaugh observed, "Since recapitalizing the company with Summit Partners, we have continued to assess the strength of our platform and looked for strategic opportunities to complement the very unique nature of our product delivery systems. We are thrilled to be joining forces with the outstanding team at Bliss & Glennon. This acquisition accelerates our effort to expand our distribution platform and capabilities. In the future we will continue to focus on our distribution and administration business and look to expand our presence by entering new geographic markets and product segments."
"We decided to look for a new home for Bliss and Glennon because it did not fit with our long-term strategy to focus our attention and resources on our retail brokerage business in the U.S," said Joe Plumeri, Chairman and CEO, Willis Group Holdings.
Piper Jaffray served as the exclusive financial advisor to Fortegra.
Guy Carpenter & Co., John B. Collins Associates
Guy Carpenter & Co. LLC completed its acquisition of John B. Collins Associates Inc., the fifth largest reinsurance intermediary in the United States and seventh largest in the world. The acquisition strengthens Guy Carpenter's capabilities in medical professional liability, agriculture, Florida property, program, and regional specialty lines of business. Transaction terms were not disclosed.
Peter Zaffino, president and CEO of Guy Carpenter, said, "The combination of the specialty capabilities of Collins with our existing platform will deliver better solutions for our clients."
From This Issue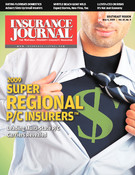 Salute to Super Regionals/AAMGA Issue; Agency Technology; Premium Finance Directory