National
ProAg, AmTrust Agriculture
Producers Ag Insurance Group Inc. has agreed to acquire Leawood, Kan.-based managing general agent AmTrust Agriculture Insurance Services.
The deal, which is subject to regulatory approvals, is expected to close by May 1.
AmTrust Ag, a subsidiary of AmTrust Financial Services Inc., manages multi-peril crop, crop hail, livestock and named peril crop insurance. AmTrust Ag products are underwritten by Technology Insurance Co., an approved insurance provider under the federal crop insurance program. In 2018, the company managed gross premiums of $103 million, as reported by National Crop Insurance Services (NCIS).
ProAg is a member of the Tokio Marine HCC group of companies. ProAg writes multi-peril crop, crop hail, named peril crop and livestock insurance. The company is headquartered in Amarillo, Texas, and employs approximately 400 people in 49 states.
Since it completed its $2.95 billion privatization plan last November, AmTrust Financial Services has been selling off businesses that do not fit within its strategy of being a specialty commercial P/C insurer focused on local markets and niche products. Last month, Canopius AG signed an agreement to purchase AmTrust at Lloyd's and Liberty Mutual Insurance agreed to acquire the global surety and credit reinsurance operations of AmTrust.
East
Marsh & McLennan Agency, Employee Benefits Group
Marsh & McLennan Agency LLC, the middle market agency subsidiary of Marsh, has acquired Employee Benefits Group Inc., a Bethesda, Md.-based independent insurance agency specializing in employee benefits and retirement consulting.
Founded in 1987, EBG provides employee health and welfare consulting and retirement consulting services to clients throughout the Mid-Atlantic. EBG has 12 employees, all of whom are joining MMA.
MMA is a subsidiary of Marsh that serves the middle market.
Arthur J. Gallagher & Co., Merit Insurance
Arthur J. Gallagher & Co. has acquired Shelton, Conn.-based Merit Insurance Inc.
Founded in 1950, Merit Insurance is a retail property and casualty broker and employee benefits consultant offering a range of coverages and services to clients across the Northeast from offices in Shelton and Bridgeport, Connecticut. Areas of focus include contractors, public entities, real estate developers, nonprofits and high-net-worth clients.
Sean Carroll, James Benson and their associates will continue to operate from their current locations under the direction of Patrick Kennedy, head of Gallagher's Northeast region retail property and casualty brokerage operations, and Tom Belmont Jr., head of Gallagher's Northeast Atlantic employee benefits consulting and brokerage operations.
Arthur J. Gallagher & Co., a global insurance brokerage, risk management and consulting services firm, is headquartered in Rolling Meadows, Ill.
Hub International Limited, The Insurance Exchange
Hub International Limited has acquired The Insurance Exchange Inc.
Based in Rockville, Md., The Insurance Exchange is an independent insurance agency that provides employee benefits consulting, commercial property and casualty, loss control, bonding, risk management, personal umbrella, home and auto insurance, retirement plan services, wealth management and international insurance.
Following the acquisition, The Insurance Exchange's President and CEO Joseph Brown will join Hub Mid-Atlantic and report to Hub's U.S. East Regional President Charles Brophy.
Headquartered in Chicago, Ill., Hub International Limited is a full-service global insurance broker.
Towne Insurance, Straus, Itzkowitz & LeCompte Insurance
Towne Insurance, a wholly-owned subsidiary of TowneBank, has acquired Straus, Itzkowitz & LeCompte Insurance, a full-service, independent agency located in Richmond, Va.
Straus, Itzkowitz & LeCompte is led by agency president Fred Itzkowitz and executive vice president Pettus LeCompte.
This will mark the 23rd acquisition for Virginia-based Towne Insurance.
Midwest
Distinguished Programs, ProHost USA
Distinguished Programs, a national insurance program manager headquartered in New York, has acquired Minneapolis, Minnesota-based ProHost USA, a specialty insurance program for restaurants and related risks.
Distinguished currently offers umbrella coverage for the restaurant industry. Adding ProHost's customized restaurant packages will enable it to offer a more complete restaurant insurance program, noted Brooks Chase, president of Distinguished Programs' specialty division.
ProHost is led by President Heidi Strommen, who has been with ProHost for 29 of the company's 30 years of operations and president the last 10 years. Strommen will continue to oversee the ProHost operation as a senior vice president of Distinguished Programs.
ProHost caters to fast casual, family and fine dining establishments, and to many wine bars, chef-driven and start-up restaurants and caterers across the United States.
Hub International, Corey Steinbach Insurance
Chicago-based global insurance broker, Hub International Limited, has acquired the assets of Corey Steinbach Insurance Agency LLC in Felton, Minnesota.
Corey Steinbach Insurance is a full-service firm specializing in crop insurance. Its focus on the agribusiness industry supports Hub's Specialty practices by complementing and strengthening Hub's existing solutions. Owner Corey Steinbach will join Hub Mountain.
South Central
The Hilb Group, Walker Brothers Insurance
The Hilb Group LLC has acquired Arkansas-based Walker Brothers Insurance Inc., effective April 1.
Formed in 1932, WBI is a full-service retail agency primarily focused on commercial property/casualty insurance for small to medium sized businesses. WBI's employees, including Agency Leader Mike Luttrell, are joining THG and will continue to operate out of their office located in Springdale, Arkansas.
The Hilb Group is a middle market insurance agency headquartered in Richmond, Virginia.
Southeast
Hub International, M.B.I. Group
Hub International Limited, a global insurance brokerage, has acquired the assets of M.B.I. Group, LLC.
M.B.I. Group is an independent insurance firm based in Flowood, Mississippi, offering personal insurance products, including real estate, auto, umbrella and life insurance products.
Michael Bishop, president and sole owner of M.B.I. Group, will join Hub Gulf South. Bishop will report to Shaun Norris, president of Hub Gulf South.
Headquartered in Chicago, Illinois, Hub International Limited is a leading full-service global insurance broker providing property and casualty, life and health, employee benefits, investment and risk management products and services.
Baldwin Krystyn Sherman Partners, Lykes Insurance
Baldwin Krystyn Sherman Partners, an insurance brokerage and risk management firm headquartered in Tampa, Fla., has acquired Florida-based, independent firm, Lykes Insurance. The partnership finalized on March 13, 2019.
Founded in 1925 by Lykes Bros. Inc., Lykes Insurance is an insurance brokerage focused on commercial risk insurance, surety bonds, employee benefits and private risk management. Lykes' team has been providing risk management services to clients from their downtown Tampa, Ft. Myers and Orlando locations for 94 years.
BKS-Partners currently operates in multiple locations throughout the Southeast with a team of over 300 colleagues. BKS-Partners works with clients across the country and has recently been strategically expanding their footprint throughout the Southeast.
The firm's acquisition of Lykes Insurance comes in addition to multiple significant partnerships formed by BKS-Partners in 2018 which introduced the firm into Northeast Florida, Alabama, Georgia and Texas.
Lykes' transition to the Baldwin Krystyn Sherman platform is in progress and clients should expect a seamless transition in terms of service and accessibility. Lykes Insurance will inherit the BKS-Partners name over the next few months.
BKS-Partners was recently recognized as a Best Place to Work by and a Best Insurance Agency to Work for by Insurance Journal.
AssuredPartners, Premier Insurance Corporation
AssuredPartners Inc. is has acquired Premier Insurance Corporation Inc. of Cape Coral, Fla.
Premier specializes in property and casualty insurance, workers' compensation, employee benefits, and life insurance. Premier and their team of seven employees will continue to be managed and operated by founders Larry Wier and Jacque Wier, who started Premier in 1996.
Headquartered in Lake Mary, Florida and led by Jim Henderson and Tom Riley, AssuredPartners, Inc. acquires and invests in insurance brokerage businesses (property and casualty, employee benefits, surety and MGU's) across the United States and in London. From its founding in March of 2011, AssuredPartners has grown to over $1.2 billion in annualized revenue with over 225 offices in the U.S. in 30 states and London.
West
Brown & Brown, ALMEA Insurance
Brown & Brown of Oregon LLC has acquired substantially all of the assets of ALMEA Insurance's Vancouver, Wash. location.
Following the deal, the ALMEA Insurance team will continue doing business from its existing Vancouver location as a branch location of Brown & Brown's Portland, Ore., office and will operate under the leadership of Jessica Getman, president of Brown & Brown of Oregon.
ALMEA Insurance offers a variety of personal and business insurance products and services to customers in Washington and Oregon. The firm has reported annual revenues of roughly $2 million.
Brown & Brown of Oregon is part of Brown & Brown Inc., an insurance brokerage firm.
Was this article valuable?
Here are more articles you may enjoy.
From This Issue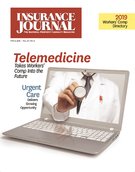 Workers' Compensation Report; Workers' Comp Directory; Markets: Healthcare & Medical Professional Liability