National
Ryan Specialty Group, Atlantic Specialty Lines
Ryan Specialty Group has agreed to acquire the assets and operations of Atlantic Specialty Lines, Inc. (ASL), a privately owned wholesale insurance brokerage headquartered in Richmond, Va., with additional locations in Illinois, Florida, Louisiana, New York, Pennsylvania and Texas.
The ASL team will become part of RT Specialty, the wholesale brokerage unit of Ryan Specialty Group, and will expand RT Specialty's footprint in the Mid-Atlantic and Southeast.
Atlantic Specialty Lines was founded in 1996 and serves retail brokers and agents throughout the Southeast and Mid-Atlantic, focusing on general liability, commercial property, commercial package, professional liability and personal lines.
East
The Hilb Group, Marsh-Kemp Insurance Agency
The Hilb Group LLC has acquired Massachusetts-based Marsh-Kemp Insurance Agency Inc. (MK).
Established in 1912, MK provides clients with a personal and business insurance options. Agency Leader Thomas McLear will continue to lead MK's associates out of the existing locations in Worcester and Auburn.
The Hilb Group is a middle-market insurance agency headquartered in Richmond, Va., and is a portfolio company of Boston-based private equity firm Abry Partners. The Hilb Group seeks to grow through targeted acquisitions in the middle-market insurance brokerage space. The company has 72 offices in 17 states.
Risk Strategies, Krauter & Company
Risk Strategies, a privately held, national insurance brokerage and risk management firm, has acquired Krauter & Company LLC, a specialty firm focused on the risk and insurance needs of private equity firms and their portfolio companies.
Founded in 2004 and headquartered in New York, Krauter & Company counts more than 185 private equity firms and thousands of portfolio companies among its client base. The company designs and places tailored transactional risk products, such as reps and warranties coverage, and tax opinion insurance.
In addition to working with private equity clients, Krauter & Company also engages with large, national companies across a variety of industries, including accounting, airlines, staffing and restaurants.
Beyond its New York headquarters, Krauter & Company maintains eight offices throughout the U.S., including in Chicago, San Francisco, Los Angeles, Houston and Boston.
Risk Strategies offers risk management advice, as well as insurance and reinsurance placement for property and casualty, healthcare and employee benefits risks. The company serves commercial companies, nonprofits, public entities and individuals.
Arthur J. Gallagher & Co., McLean Insurance Agency
Arthur J. Gallagher & Co. has acquired Potomac Falls, Va.-based McLean Insurance Agency Inc.
Established in 1971, McLean Insurance Agency offers retail property and casualty, life and employee benefits brokerage and consulting services to businesses and individuals throughout the eastern United States.
Douglas B. Megill and his associates will continue to operate from their current location under the direction of Dan Tropp, head of Gallagher's Mid-Atlantic retail property and casualty brokerage operations, and John Tournet, head of Gallagher's Southeast employee benefits consulting and brokerage operations.
Arthur J. Gallagher & Co., a global insurance brokerage, risk management and consulting services firm, is headquartered in Rolling Meadows, Ill. The company has operations in 35 countries and offers client service capabilities in more than 150 countries through a network of correspondent brokers and consultants.
Midwest
Seeman Holtz, Schwarz Insurance Agency
Seeman Holtz Property & Casualty LLC has acquired Schwarz Insurance Agency Inc., headquartered in Prairie du Sac, Wis., with six other offices across the state.
President and CEO Kathy Schwarz, an employee of the Schwarz Insurance Agency since 1987 and a co-owner since 1993, was named a partner and CEO of this Seeman Holtz Property & Casualty division.
Schwarz Insurance Agency has been serving Wisconsin for almost a century. Family owned and operated, Schwarz Insurance is a full-service independent insurance agency administering more than $100 million in premiums for business, home, auto, health, life, employee benefits and agribusiness. The agency is also a recognized leader in ACA compliance and education.
Seeman Holtz Property & Casualty Inc. is based in Boca Raton, Fla.
Hub International, First Western Insurance Agency
Chicago-based global insurance brokerage, Hub International Ltd. (Hub), has acquired the assets of First Western Insurance Agency Inc. in South Dakota.
First Western Insurance Agency is an independent insurance agency with 10 locations throughout the Black Hills of South Dakota. The agency provides multi-line insurance solutions, including personal, commercial and employee benefits products.
First Western's focus on various industries, such as agribusiness, construction, healthcare and transportation, supports Hub's Specialty practices by complementing and strengthening Hub's existing capabilities.
Kyle Prewitt, president of First Western Insurance Agency, will join Hub Mountain and report to Rene LeVeaux, president of Hub Mountain.
South Central
Lighthouse Property Insurance, Excalibur National Insurance
Lighthouse Property Insurance Corp. has acquired Excalibur National Insurance Co., based in Louisiana.
Excalibur is a Louisiana-domiciled property insurance carrier with approximately $20 million of mostly homeowners' premium throughout southern Louisiana. The integration of the two companies will take several months. Excalibur will be a wholly owned subsidiary of Lighthouse and will continue to provide competitive product offerings to Louisiana homeowners.
Combined, Lighthouse Property and Excalibur National write approximately $75 million in homeowners' premium in Louisiana as part of a $265 million consolidated book, including affiliated carrier Prepared Insurance Company, across Florida, Texas, Louisiana, North Carolina and South Carolina.
Propel Advisory Group Inc. served as financial advisor for Lighthouse in the transaction.
Lighthouse has operated in the Louisiana market for 11 years.
CRC Group Argenia
Parsippany, New Jersey-based CRC Group, a nationwide wholesale distributor of specialty insurance products, has acquired Argenia LLC, a Little Rock, Arkansas-based managing general agent (MGA) and surplus lines broker.
Founded in 1976, Argenia operates in more than 10 states with numerous specialty programs.
CRC Group said the addition of Argenia complements the group's capabilities in Arkansas and the surrounding region. The acquisition also builds on a previous acquisition made in Arkansas by CRC Group last year.
In the short-term, Argenia will continue to operate under the company's current brand with the same underwriters and the same contact information. Over the coming months, CRC will work to fully integrate the operations.
Southeast
Ryan Specialty Group, International Specialty Insurance Services
Ryan Specialty Group, LLC, has acquired the assets and operations of International Specialty Insurance Services Inc. (ISI), an independently owned managing general underwriter with offices in Winston-Salem, N.C. ISI's team is a part of RSG Underwriting Managers LLC, the managing general underwriting unit of Ryan Specialty Group. This transaction was previously announced on Feb. 12, 2019.
ISI offers high-value disability and other related insurance products to athletes, entertainers, physicians and other high-earning professionals. The business was privately owned and led by Matthew Ferraro, Joseph Ferraro and Christopher Larcheveque, who will remain with the business under the new RSG ownership, as will the whole team at ISI.
Sherman & Company LLC acted as financial advisor to ISI.
Founded in 2010, Ryan Specialty Group LLC is an international specialty insurance organization designed specifically for brokers, agents and insurers. Ryan Specialty includes a wholesale brokerage firm, RT Specialty, a well as a managing general underwriting division called RSG Underwriting Managers, which is comprised of highly specialized managing general underwriting companies.
West
Alliant North County Insurance
Alliant Insurance Services Inc. has acquired Escondido, Calif.-based North County Insurance.
Joseph Giamanco, president of North County Insurance, and the rest of the team will join Alliant and continue to service clients from its Escondido offices.
North County Insurance provides commercial and personal insurance solutions.
Newport Beach-based Alliant provides property and casualty, workers' compensation, employee benefits, underwriting, surety, and financial products and services.
Alera Group, Shomer Insurance Agency
Alera Group, a national insurance firm, announced its acquisition of Shomer Insurance Agency, Inc. (Shomer). Terms of the transaction were not announced.
Located in Los Angeles,Shomer offers insurance and risk management programs to clients throughout California. The firm specializes in serving nursing homes, home health, and assisted and independent living facilities.
All Shomer employees will continue operating out of the firm's existing locations under the name Shomer Insurance Agency, an Alera Group Company LLC.
Deerfield, Ill.-based Alera Group offers employee benefits, property/casualty, risk management and wealth management.
Shomer was advised on the transaction by Helfer & Associates LLC, located in Englewood, N.J.
Was this article valuable?
Here are more articles you may enjoy.
From This Issue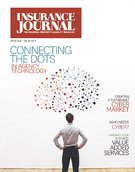 Agency Technology; Markets: Cyber & Security