East
Alera Group, Phalanx Healthcare
Alera Group has acquired Phalanx Healthcare Solutions LLC, effective March 1, 2019.
Located in New York City, Phalanx is an insurance and reinsurance broker of medical malpractice insurance for healthcare facilities, large physician groups and individual physicians predominately in New York and New Jersey.
All Phalanx employees will continue operating out of the firm's existing location under the name Phalanx Healthcare Solutions, an Alera Group Agency LLC.
Based in Deerfield, Ill., Alera Group serves clients in employee benefits, property and casualty, risk management and wealth management.
AssuredPartners, Goodworks Financial
AssuredPartners Inc. has acquired Goodworks Financial Group of Glastonbury, Conn.
Following the acquisition, Goodworks Financial Group's team of 14 employees will remain under the operational leadership of Dennis Dressel and Paul Brian.
The agency currently reports $3 million in annualized revenues.
Headquartered in Lake Mary, Fla., and led by Jim Henderson and Tom Riley, AssuredPartners Inc. acquires and invests in insurance brokerage businesses in the property and casualty, employee benefits, surety and managing general underwriting industries across the U.S. and in London.
Midwest
Employers Mutual Casualty, EMC Insurance Group
Des Moines, Iowa-based Employers Mutual Casualty Co. and EMC Insurance Group Inc. have entered into a mutual agreement under which EMCC will acquire all the remaining shares of EMCI that it does not currently own for $36.00 per share in a cash transaction.
EMCC currently owns 55% EMCI's outstanding shares.
The transaction, which is expected to close in the second half of 2019, has an equity value of approximately $356 million based solely upon the outstanding shares of EMCI not owned by EMCC, the companies said.
EMCC has formed a new wholly owned subsidiary to be merged into EMCI.
The proposed transaction is subject to satisfaction or waiver of customary closing conditions.
Hilb Group, Keane Insurance
The Hilb Group LLC has acquired Missouri-based The Keane Insurance Group Inc.
The transaction became effective May 1.
KIG's associates and John Keane, the agency leader, are joining THG under its existing name and will continue to operate out of its main office in St. Louis and other locations.
KIG is an insurance brokerage specializing in medical professional liability insurance for physicians and other healthcare providers throughout the nation.
The Hilb Group is a middle market insurance agency headquartered in Richmond, Va.
Southeast
The Hilb Group, Summit Insurance
The Hilb Group LLC has acquired Summit Insurance Services LLC, the insurance operations of Summit Financial Group Inc. of Moorefield, West Virginia. The transaction became effective May 1.
Virginia-based SIS is an insurance agency that primarily provides employee benefits solutions to businesses and individuals throughout the Mid-Atlantic region.
SIS will continue to do business under its existing name and remain in its current offices in Leesburg, Va., and Moorefield, W.Va.
Ricky Spiro, THG CEO, said the combined resources will allow the companies to expand product offerings and expertise available to all SIS customers.
West
Frederick H. DiMeo, Ozwald and Speaker
The Frederick H. DiMeo Insurance Agency Inc. has purchased the personal lines division of Oakland, Calif.-based Ozwald and Speaker Insurance Services Inc.
The acquisition includes the purchase of six books of business, adding a reported $1.2 million of written premium to the agency's current writings.
Terms of the deal weren't disclosed.
Frederick H. DiMeo Insurance is based in Morgan Hill, Calif.
Alera Group, HighRidge Insurance
Alera Group has acquired HighRidge Insurance Services in Westlake Village, Calif.
HighRidge will join Alera Group through California firm Capital City Benefits & Insurance Services and will operate under that name.
HighRidge provides employee benefits services to clients throughout the state.
Was this article valuable?
Here are more articles you may enjoy.
From This Issue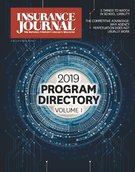 Programs Directory, Volume I; Market: Public Entities & Schools