National
Ryan Specialty, Atlantic Specialty
Ryan Specialty Group has acquired the assets and operations of Atlantic Specialty Lines Inc.
The ASL team is now a part of R-T Specialty, the wholesale brokerage unit of Ryan Specialty Group. The deal expands RT Specialty's footprint in the Mid-Atlantic and Southeast.
ASL is headquartered in Richmond, Va., and has additional locations in Illinois, Florida, Louisiana, New York, Pennsylvania and Texas.
Atlantic Specialty Lines was founded in 1996 to serve retail brokers and agents in the Southeast and Mid-Atlantic focusing on general liability, commercial property, commercial package, professional liability and personal lines.
East
Cross Insurance, DiMatteo Insurance
Cross Insurance, a subsidiary of Cross Financial Corp. based in Bangor, Maine, has partnered with DiMatteo Insurance of Shelton, Conn.
The DiMatteo family owned agency handles all lines of business including employee benefits. Kim DiMatteo started working in the family insurance business in 1991 and was recently named branch manager of DiMatteo Insurance. She specializes in commercial, specifically construction, contractors and real estate.
Previously referred to as DiMatteo Group, the business has spun off into three divisions: DiMatteo Insurance, which is overseen by Kim DiMatteo; DiMatteo Group-Financial LLC, headed by Kim's husband, John DiMatteo; and DiMatteo Group-Tax and Accounting, managed by Rosemarie Esposito.
Other family members involved in the business include Loretta Lesko, who is a partner in the tax business and a training supervisor in the insurance division. Her husband, Robert Lesko, specializes in insurance sales and is a partner in the tax division. A total of 25 employees from all of the divisions will remain at the Shelton location following the partnership.
Since its founding in 1954, Cross Insurance has grown through the acquisition of more than 100 insurance agencies throughout New England. The company has 800 employees operating out of Maine, New Hampshire, Rhode Island, Massachusetts and Connecticut.
World Insurance Associates, Professional Insurance Associates
World Insurance Associates LLC, an independent insurance agency headquartered in Tinton Falls, N.J., merged with Professional Insurance Associates Inc. of Carlstadt, N.J.
Professional Insurance Associates has served commercial and personal lines clients, as well as public entities, for more than 60 years. In addition to benefits and financial services, the company specializes in providing its contractor clients with a range of contract surety bonding services.
PIA President James V. Gardella and his team will continue to support clients from the same location in Carlstadt, N.J.
World Insurance Associates LLC offers personal and business insurance in 50 states. The company specializes in transportation, hospitality, self-storage facilities, construction (surety), manufacturers and law firms. World Insurance also provides group benefits and property and casualty insurance to companies in a variety of industries and insurance for coastal properties and high net worth clients.
The company also acquired Lampe-Batkin Associates LLC of Greenwich, Conn., on April 1, 2019.
Lampe-Batkin Associates LLC is a family run insurance agency that serves the communities of Connecticut and New York. Hy Lampe founded the agency in the 1950s, and his son-in-law, Steve Batkin, now runs the business. It provides personal and business insurance, including life insurance and coverage for high net worth individuals. Batkin will continue to run the business at its location in Greenwich, Conn., following the acquisition.
Starkweather & Shepley Insurance Brokerage, The Wilson Agency
Starkweather & Shepley Insurance Brokerage Inc. has acquired The Wilson Agency Inc. of Shelton, Conn.
The Wilson Agency is a third-generation, family owned and operated agency serving Fairfield County and the Naugatuck Valley for more than 65 years. Founded in 1953 by Charles Wilson Sr., Wilson Agency Inc. has been located in the city of Shelton since 1966.
Current agency principals Charlie Wilson Jr., Thomas Wilson and James Wilson, along with Personal Lines Associate Diane Lucas, will continue to service clients from S&S' 375 Bridgeport Avenue location.
S&S is an independent agency headquartered in East Providence, R.I., providing commercial and personal insurance, health and employee benefits, surety bonding and risk management services nationally and internationally through its partnership with Assurex Global.
Midwest
Arthur J. Gallagher, Cairnstone Financial
Arthur J. Gallagher & Co. has acquired Cairnstone Financial LLC.
Founded in 2010, Zionsville, Ind.-based Cairnstone Financial is a benefits consultant offering group health, life, wellness, retirement, disability and dental coverages and services to middle-market clients across the Midwestern United States.
Mark Shrack and his associates will continue to operate from their current location under the direction of John Neumaier, head of Gallagher's Great Lakes region employee benefits consulting and brokerage operations.
Arthur J. Gallagher & Co., a global insurance brokerage, risk management and consulting services firm, is headquartered in Rolling Meadows, Illinois.
Sovos, Eagle Technology Management
Global tax software provider Sovos is acquiring Iowa-based Eagle Technology Management, which provides statutory financial reporting and insurance premium tax software to insurers and unclaimed property reporting products and services to U.S. financial institutions, corporations and insurance companies.
ETM customers include more than 1,500 U.S. insurance companies. Nearly 5,000 customers have adopted ETM's unclaimed property platform, as U.S. businesses are subject to unclaimed property audits by 53 reporting jurisdictions.
Sovos is owned by Hg, the London-based private equity investor focused on software and service businesses.
South Central
Risk Strategies, MainStreet Consulting Group
Boston-based insurance brokerage and risk management firm Risk Strategies has acquired MainStreet Consulting Group, a brokerage headquartered in Conroe, Texas, just north of Houston.
Established in 2003, MainStreet Consulting Group is focused on placing a wide variety of coverage types for commercial clients. In its commercial business, MainStreet services clients in several industries, from manufacturing to construction. While many are well-represented in Risk Strategies' client base, a number represent new fields for the company, including the energy industry.
In addition to commercial property/casualty, MainStreet helps commercial clients develop alternatively funded employee benefits programs. The company also has an active practice providing personal lines clients with insurance placement and risk management advisory services.
INSURICA, First Texas Insurance Services
INSURICA has acquired First Texas Insurance Services, based in Arlington, Texas. The effective date for the deal is June 1, 2019.
Trey Dacy and Bob Walch, principals at First Texas Insurance Services, and their team will join INSURICA. A third partner, Gary McNeil, along with his account team, joined INSURICA on January 1.
First Texas' office is located next to INSURICA's in Arlington. Plans are to combine the two offices in a single location in the future.
INSURICA has 30 offices throughout Oklahoma, Texas, Arkansas, Colorado, Arizona and California.
CoVerica, Agape Healthcare Partners
Dallas-based CoVerica has expanded its presence in the medical professions arena with the acquisition of Agape Healthcare Partners L.P., an independent insurance agency headquartered in North Texas.Agape specializes in risk assessment, compliance strategies, corporate liability, commercial property and employment practices liability for physicians, medical groups and hospitals across the U.S.
Southeast
National General, Insurtech Syndeste
Personal lines insurer National General Holdings Corp. (NGHC) will begin offering private flood insurance in Florida later this summer after its acquisition of Syndeste LLC, an insurance technology company.
National General will initially launch the product in the third quarter for its residential and commercial consumers, starting in Florida. It will expand the product throughout the United States with New Jersey planned as the second state.
The company plans to offer multiple admitted and nonadmitted private flood insurance products based on Syndeste's underwriting technology and by partnering with reinsurers.
Syndeste specializes in targeting consumers seeking flood coverage and leveraging hyper-local risk data to underwrite flood insurance. Its data and analytics provide insurance agents with educational and marketing tools.
National General previously only offered flood coverage through the federal National Flood Insurance Program.
Syndeste is an insurance technology company focused on the flood insurance market. Its platform, Beyond Floods, provides pricing, underwriting and marketing tools for all U.S. states and territories.
National General Holdings Corp., headquartered in New York, is a specialty personal lines insurance holding company.
West
Capital Insurance Group, Auto-Owners
Capital Insurance Group is now a member of the Auto-Owners Insurance group of companies after regulatory approvals were cleared and closing documents were signed in late May.
CIG in February entered into an agreement to be acquired by Lansing, Mich. based Auto-Owners Insurance. CIG is a leading regional property/casualty insurer that provides a range of customized coverage for commercial, personal, and agricultural lines in California, Washington, Oregon, Nevada, and Arizona.
Auto-Owners operates solely through independent agencies and also owns a life insurance company, an excess and surplus lines company, and is affiliated with Concord General Mutual Insurance Co. in the Northeastern U.S.
Was this article valuable?
Here are more articles you may enjoy.
From This Issue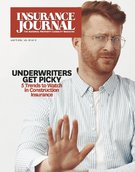 Construction Market & Risks Report; Markets: Umbrellas (Personal & Commercial); Special Supplement: The Florida Issue