East
Paquin Insurance Agency, OceanPoint Insurance Agency
Paquin Insurance Agency has joined OceanPoint Insurance Agency's organization in Rhode Island.
Paquin Agency Principal Rick Paquin has accepted a position as vice president for OceanPoint, and he and his brother, Greg, will continue to serve the local community from their office in Tiverton, R.I.
Rick has overseen Paquin Insurance with Greg since they began managing the family business in 1998. All seven employees, including Rick and Greg, will remain at the office location in Tiverton.
OceanPoint Insurance Agency Inc. is an independent insurance agency. As a subsidiary of BankNewport and OceanPoint Financial Partners MHC., OceanPoint Insurance can trace its roots back to 1863.
Paquin Insurance Agency has provided insurance products for Rhode Island and Massachusetts clients for more than 50 years.
World Insurance Associates, Joseph A. Britton Agency
World Insurance Associates LLC, an independent insurance agency headquartered in Tinton Falls, N.J., acquired the Joseph A. Britton Agency Inc. of Mountainside, N.J., on April 1, 2019.
The Joseph A. Britton Agency is a healthcare and professional liability insurance agency that services New Jersey, New York and Pennsylvania. Since 1968, the agency has helped physicians, medical groups and healthcare facilities.
World Insurance Associates LLC offers personal and business insurance in 50 states. The company specializes in transportation, hospitality, self-storage facilities, construction (surety), manufacturers and law firms.
Hub International Limited, RIMS Insurance Brokerage Corp.
Hub International Ltd. has acquired the assets of RIMS Insurance Brokerage Corp.
Located in Providence, R.I., RIMS Insurance Brokerage Corp. has offered medical professional liability insurance as well as life, health, disability, workers' compensation, business owner's insurance and other coverages since 1988.
Following the transaction, Robert Anderson, president of RIMS Insurance Brokerage Corp., will join Hub New England and will report to Daniel Nissi, president of Hub New England's Healthcare Specialty Practice.
Headquartered in Chicago, Ill., Hub International Limited is a full-service global insurance broker.
The Hilb Group, Summit Insurance Services
The Hilb Group LLC has acquired Summit Insurance Services LLC, the insurance operations of Summit Financial Group Inc. of Moorefield, W.Va. The transaction became effective May 1.
SIS is an insurance agency that primarily provides employee benefits to businesses and individuals throughout the Mid-Atlantic region of the U.S. SIS will continue to do business under its existing name and remain in its current offices in Leesburg, Virginia, and Moorefield, West Virginia, following the transaction.
THG is a middle market insurance agency headquartered in Richmond, Virginia, and is a portfolio company of Boston-based private equity firm, Abry Partners. It seeks to grow through targeted acquisitions in the middle market insurance brokerage space. The company now has 77 offices in 18 states.
Midwest
Arthur J. Gallagher, MDV Wealth Planning
Global insurance brokerage, risk management and consulting services firm, Arthur J. Gallagher & Co., has acquired Fox River Grove, Ill.-based MDV Wealth Planning Inc.
Founded in 2014, MDV Wealth Planning sells and places life insurance products for clients of registered investment advisors, independent financial advisors, institutional brokers, life insurance professionals, and property/casualty agents and brokers. The firm focuses on C-suite executives and high-net-worth individuals.
Thomas Vilardo and his associates will continue to operate from their current location under the direction of Jeff Leonard, National Financial and Retirement Services practice leader.
Arthur J. Gallagher & Co. is headquartered in Rolling Meadows, Illinois.
McGowan Insurance Group, Jackson-McCormick Insurance
Indiana-based independent insurance agencies McGowan Insurance Group and Jackson-McCormick Insurance have merged into one organization.
McGowan is headquartered in Indianapolis and Jackson-McCormick has offices in Lebanon and Lafayette. McGowan Insurance Group is licensed and actively does business throughout the U.S. Jackson-McCormick works primarily in the Midwest.
The merged organization will adopt the McGowan name, have close to 50 employees and maintain three offices located in Indianapolis, Lebanon and Lafayette.
Todd Jackson, former president of Jackson-McCormick, will become a partner of McGowan Insurance Group and a member of the senior leadership team.
AssuredPartners, Air Capital Insurance
AssuredPartners Inc. has acquired Air Capital Insurance LLC of Wichita, Kansas.
ACI's team of 10 will remain under the leadership of ACI founders Glenn Tate and Greg Hiser. The group will join AssuredPartners' aerospace unit.
The agency was founded in 2002 by Tate and Hiser. It currently reports approximately $2 million in annualized revenues.
AssuredPartners is headquartered in Lake Mary, Florida, and led by Jim Henderson and Tom Riley.
South Central
Extraco Insurance, Higginbotham
Extraco Banks has sold its commercial insurance operation to Fort Worth, Texas-based independent insurance broker, Higginbotham.
Extraco Insurance is a group of five property/casualty insurance professionals operating in Waco, Temple and Hamilton, Texas, for 19 years. The group will continue doing business under the Higginbotham name.
Higginbotham entered the Waco market in 2009 with the acquisition of another local insurance agency.
Higginbotham was founded in 1948 and is headquartered in Fort Worth, Texas, with more than 30 additional offices statewide and in Oklahoma and Georgia serving domestic and international customers.
Southeast
Hub, In-Fi
Hub International Ltd., has acquired the assets of CBIS LLC, d/b/a In-Fi.
Established in 2016 by co-founder Jon Chasteen, In-Fi developed a distribution platform for financial institutions, which utilizes technology and automation to monetize high volume, low premium insurance placements and establishes lead generation through fulfillment, service and renewal.
Hub said In-Fi's focus on streamlining customer engagement quickly and providing strong customer service supports its ongoing strategy to connect with personal lines insurance customers.
Hub also hired property and casualty insurance specialist and In-Fi co-founder Chasteen and acquired his book of business.
Based in Atlanta, Chasteen will join the Hub South region, bringing with him more than 15 years of experience designing, placing and managing complex insurance and risk management programs. In addition to starting In-Fi, Chasteen previously worked with Palmer & Cay. He specializes in financial institutions, complex property & casualty, alternative risk transfer/captives and international insurance.
Chicago, Ill.-based Hub is an insurance broker providing property/casualty, life and health, employee benefits, investment and risk management.
BB&T, SunTrust
BB&T Corp. and SunTrust Banks Inc. will rebrand as Truist after the two companies combine through their planned merger announced earlier this year.
The merger is expected to close in the third or fourth quarter of 2019 subject to satisfaction of customary closing conditions, including receipt of regulatory approvals and approval by the shareholders of each company. BB&T and SunTrust remain separate and independent companies until the transaction closes.
The companies also announced the address of the new corporate headquarters located in Charlotte, N.C.
The combined holding company will be named Truist Financial Corp., and the combined bank will be named Truist Bank. While the new names will be effective upon completion of the merger, clients will continue to be served post-closing under the BB&T and SunTrust brands for the near future. Over time following the closing, both the BB&T and SunTrust brands will be transitioned to Truist, including its products and services.
The merger was announced in February. The firms said at the time, the combined company will leverage its complementary businesses to generate additional revenue opportunities.
Winston-Salem-based BB&T operates more than 1,800 financial centers in 15 states and Washington, D.C.
Headquartered in Atlanta, SunTrust has two business segments: consumer and wholesale. Its flagship subsidiary, SunTrust Bank, operates a branch and ATM network throughout the Southeast and Mid-Atlantic states.
West
Hub International, Foster & Parker
Hub International Ltd. has acquired Foster & Parker Insurance Agency Inc.
Steve Barsotti, president of Foster & Parker Insurance, and the staff will join Hub California.
Foster & Parker Insurance is an independent insurance agency located in Madera, Oakhurst, and Rancho Cordova, Calif., that specializes in home, auto, business, farm, and life and health insurance and risk management.
Chicago, Ill.-based Hub is an insurance broker providing property/casualty, life and health, employee benefits, investment and risk management products and services.
Arthur J. Gallagher, Abram Interstate Insurance Services
Arthur J. Gallagher & Co. has acquired Rocklin, Calif.-based Abram Interstate Insurance Services Inc.
Ron Abram and his associates will remain in their current location under the direction of Joel Cavaness, president of Risk Placement Services Inc., a subsidiary of Arthur J. Gallagher & Co.
Abram Interstate Insurance is a property/casualty managing general agency.
Rolling Meadows, Ill.-based Arthur J. Gallagher has operations in 35 countries.
Was this article valuable?
Here are more articles you may enjoy.
From This Issue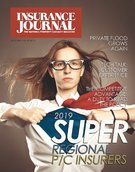 Super Regional P/C Insurers; Markets: Flood & Earthquake, E&O; Annual Ad Reader Study