East
W.N. Tuscano Agency, Insurance Markets
W.N. Tuscano Agency Inc. has signed an agreement to acquire Clarks Summit, Penn.-based Insurance Markets Inc.
Founded in 1960, Insurance Markets Inc. is a managing general agency (MGA) and surplus lines broker serving clients primarily in Pennsylvania.
The Insurance Markets office located in Northeastern Pennsylvania will continue to operate under the direction of Robin Tuscano, newly appointed branch manager and current transportation manager at Tuscano Agency.
William Tierney Jr., Peter Tierney, Joe Tierney and Ryan Tierney will join the Tuscano Agency and operate from its current location.
W.N. Tuscano Agency Inc. is a regional insurance brokerage firm headquartered in Greensburg, Penn.
Midwest
Alera Group, ARMS Insurance Group
Alera Group, a national independent insurance agency, has acquired ARMS Insurance Group, effective May 1, 2019.
ARMS, a general agency headquartered in Bethel Park, Penn., has served insurance brokers throughout western Pennsylvania and the surrounding states for more than 25 years.
All ARMS employees will continue operating out of the firm's existing location under the name ARMS Insurance Group, an Alera Group Agency LLC.
South Central
U.S. Risk Insurance Group, USI Insurance Services
The acquisition of Dallas-based property and casualty program and specialty brokerage, U.S. Risk Insurance Group, by USI Insurance Services, has been finalized.
U.S. Risk will maintain its Dallas headquarters and continue to operate independently under the company's various existing brands: U.S. Risk, Oxford, MGB, James Hampden International, Antarah and UNIS.
U.S. Risk CEO Randall G. Goss and his current leadership team will remain and continue to lead these businesses.
West
NFP, Excel Bonds & Insurance Services
NFP has acquired Sacramento, Calif.-based Excel Bonds & Insurance Services Inc. The deal closed May 1.
Cathy Skeen and Dave Garese, former founders and principals, will join NFP as senior vice presidents, reporting to John Hyland, senior vice president and the head of the Surety division.
Was this article valuable?
Here are more articles you may enjoy.
From This Issue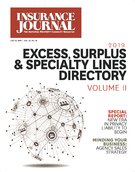 Data & Analytics; Excess, Surplus & Specialty Markets Directory, Volume II; Special Supplement: The Florida Issue