National
Tokio Marine, Pure Group
Tokio Marine Holdings has completed the acquisition of Privilege Underwriters Inc. and its subsidiaries, known as Pure Group. The deal was announced last October. The acquisition price was
$3.1 billion.
The deal was completed through Tokio Marine's wholly owned subsidiary HCC Insurance Holdings Inc. The financial results of Pure Group will be consolidated into the financial statements of Tokio Marine Holdings from the first quarter of fiscal year 2020 onward. Tokio Marine acquired 100% of Privilege Underwriters Inc.'s shares from existing shareholders that include Stone Point (51%), KKR (34%), AXA XL (10%), Pure management and others (5%).
For 2018, Pure reported fee income of $229 million, a before-tax profit of $73 million and $963 million in premiums under management. The company's business profile is composed of homeowners (57%), auto (23%), inland marine (9%) and other lines for high-net worth clients.
White Plains, N.Y.-based Pure Group's insurance contracts are written by the Privilege Underwriters Reciprocal Exchange. However, the reciprocal exchange is owned by policyholders and is not itself part of the acquisition. The exchange cedes the majority of its risk to the reinsurance market and shares with the insurance subsidiary of Pure Group. The capital of the reciprocal exchange is primarily contributed by the policyholders.
Ross Buchmueller, founder, president and CEO of Pure Group, and all key management will continue in their positions, according to the company.
Tokio Marine said the deal will allow it to expand and diversify its international business in both scale and profit.
---
East
RogersGray, G.H. Dunn Agency
RogersGray has continued its expansion with the acquisition of the G.H. Dunn Agency of Buzzards Bay and Mattapoisett, Mass.
Following the acquisition, the team at G.H. Dunn will remain, including David Dunn, who will be joining RogersGray as partner and executive vice president, according to David Robinson, president and CEO of RogersGray.
Clients of G.H. Dunn will continue to be serviced from its Buzzards Bay and Mattapoisett locations, with the offices being re-branded under the RogersGray umbrella.
AssuredPartners, The Jordan Insurance Group
AssuredPartners Inc. has acquired The Jordan Insurance Group LLC located in Columbia, Md.
The team of five will remain under the operational leadership of Bill Jordan following the acquisition. The agency currently reports $1.1 million in annualized revenues.
AssuredPartners is headquartered in Lake Mary, Fla.
---
Midwest
LMC Insurance & Risk Management, AssuredPartners
LMC Insurance & Risk Management, headquartered in West De Moines, Iowa, has joined Florida-based AssuredPartners Inc.'s national broker team.
LMC's 290 employees will remain under the operational leadership of LMC President and CEO Greg LaMair.
LMC's founding dates back to 1865. The group provides property/casualty insurance, employee benefits, personal lines, financial services and risk management services.
---
South Central
Insgroup, Harris F Underwood III
Houston-based insurance broker Insgroup Inc. has acquired substantially all of the assets of the Harris F Underwood III Inc. (HFU) agency in Dallas.
The deal is Insgroup's second announced acquisition in the Dallas-Fort Worth (DFW) Metroplex in the past 12 months.
HFU has been serving the needs of commercial and private clients in the DFW area for more than 40 years, and has earned a reputation for client advocacy under the leadership of Chris Hill, co-founder, and Cash Harbaugh, president. The entire Underwood team has joined Insgroup and will continue to operate from its current location in downtown Dallas under the existing leadership of Harbaugh and Hill.
Align Financial Holdings, National Lloyds Corp.
Dallas-based Hilltop Holdings Inc. and Align Financial Holdings LLC have entered into a definitive agreement for the sale of Hilltop subsidiary National Lloyds Corp. to Align in an all-cash transaction valued at approximately $150 million, subject to post-closing adjustments.
Founded in 1948, National Lloyds is a Dallas-based specialty property insurer primarily serving owners of lower value homes and mobile homes. The company writes premiums through two subsidiaries, National Lloyds Insurance Co. and American Summit Insurance Co., and has wholly owned agency and services businesses, including Nalico General Agency.
Align also has entered into a definitive agreement for the sale of the carriers — National Lloyds and American Summit Insurance — to ReAlign Insurance Holdings LLC in an all-cash transaction.
As part of the transaction, the agencies retained by Align, or its affiliates, will enter into various agreements with the carriers to provide services, including acting as a program underwriting manager and claims administrator for the carriers post-transaction.
---
Southeast
Arthur J. Gallagher & Co., Hanover Excess & Surplus
Arthur J. Gallagher & Co. has acquired Wilmington, N.C.-based Hanover Excess & Surplus Inc.
Established in 1970, Hanover Excess & Surplus is a regional managing general agency offering hard-to-place coastal commercial and personal property/casualty coverages, as well as professional liability coverages, to clients across North Carolina, South Carolina, Virginia and Georgia.
Matt Letson and his associates will continue to operate from their Wilmington location under the direction of Joel Cavaness, head of Risk Placement Services Inc. (RPS), Gallagher's U.S. wholesale brokerage operation.
---
West
USI Insurance Services, Orgill Singer & Associates
USI Insurance Services has acquired Las Vegas-based Orgill Singer & Associates Inc. All of the agency's team members in Las Vegas and Reno, including CEO David Dahan, President Eric Springall and Chief Operating Officer Eamon Springall will be joining USI.
Orgill Singer Insurance is a full-service independent insurance agency specializing in commercial insurance, employee benefits and personal risk solutions for local businesses and individuals. Valhalla, N.Y.-based USI is an insurance brokerage and consulting firm delivering property/casualty, employee benefits, personal risk, program and retirement solutions to large risk management clients, middle-market companies, smaller firms and individuals.
Risk Strategies, Transport Risk Management
Risk Strategies has acquired Transport Risk Management Inc. in Denver. Risk Strategies is a privately held, national insurance broker.
Transport Risk is a national specialist in aviation-related insurance and risk management. It was founded in 2003 by its current president, Terry Miller.
Was this article valuable?
Here are more articles you may enjoy.
From This Issue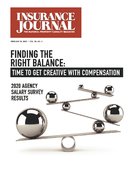 Agency Salary Survey Results; Markets: Marinas & Boat, Agribusiness / Farm & Ranch