East
Hub International Limited, Triester, Rossman & Associates
Hub International Limited, a global insurance brokerage, has acquired Triester, Rossman & Associates Inc.
Located in King of Prussia, Penn., TRA Insurance Solutions is an independent insurance firm providing clients with commercial and personal insurance and employee benefits solutions. Scott Davis and Jeffrey Triester, principals at TRA Insurance Solutions, will join Hub Northeast.
Hub International Limited is committed to growing organically and through acquisitions to expand its geographic footprint and strengthen industry and product expertise.
Headquartered in Chicago, Ill., Hub International Limited is a full-service global insurance broker.
---
CBIZ, Alliance Insurance Services
CBIZ Inc., a provider of financial, insurance and advisory services, has acquired substantially all of the assets of Alliance Insurance Services Inc. of Washington, D.C., effective February 1.
With roots dating back to 1986, AIS is an independent insurance agency providing property and casualty insurance as well as personal lines to small and midsized clients across many industries including charter schools, real estate, construction and technology in the D.C. metro area. AIS has nine employees and approximately $1.6 million in annual revenue.
CBIZ Inc. is a provider of financial, insurance and advisory services to businesses throughout the U.S.
---
Insurance Office of America, RDA Benefit Services
Insurance Office of America has merged with New Jersey-based RDA Benefit Services, owned by Bob and Nancy Damato. The merger became effective Jan. 1, and further adds to IOA's growing team in the Northeast region.
RDA has served primarily the construction, distribution, health care and manufacturing industries for more than 30 years, providing guidance within the employee benefits arena.
IOA shares the same market focus and provides comprehensive consulting services to these industries and more including bonding, commercial insurance, employee benefits and risk management. IOA is a full-service insurance agency founded in 1988 by John Ritenour and Valli Ritenour. Headquartered in Longwood, Fla., it has more than 1,000 associates located in more than 60 offices in the U.S. and London.
---
Risk Strategies, UNIRISC
Risk Strategies, a privately held, national insurance brokerage and risk management firm, has acquired UNIRISC Inc., a specialist in the global relocation insurance and risk management needs of corporate personnel and private individuals moving domestically and overseas.
Founded in 1972 and based in Arlington, Va., UNIRISC's clients include Fortune 100 companies spanning the automotive, financial, pharmaceutical, insurance, service, manufacturing, communications, technology and relocation industries. UNIRISC's services include claims and bespoke relocation assistance to mitigate the risk and complexity of relocation.
Organized as two distinct divisions – insurance brokerage and third-party administrator – UNIRISC aims to simplify the complexities of relocation. UNIRISC's brokerage team can customize coverage while its third-party administrator group uses proprietary technology to manage and streamline the claims process for self-insured relocation clients.
Risk Strategies' presence in the mid-Atlantic region has steadily increased in recent years through the acquisition of several specialty firms. In 2017, Risk Strategies acquired both Baltimore-based Delmarva Surety, and Cornerstone Professional Liability Consultants. In 2018, Risk Strategies acquired Bethesda, Md.-based employee benefits specialist, Arkin Youngentob Associates, and Potomac, Md.-based Creative Insurance Solutions.
Risk Strategies offers risk management advice as well as insurance and reinsurance placement for property and casualty, health care and employee benefits risks.
Midwest
The Hilb Group, Healthcare Liability Consultants Agency
The Hilb Group LLC has acquired Healthcare Liability Consultants Agency Inc., and hired owner and medical malpractice insurance specialist, Julie Paton, as a producer. Paton is based in Cleveland, Ohio.
The transaction became effective March 1.
Paton will join the THG's Central/Midwest operations and continue to provide customized solutions to her clients. Her addition will complement and strengthen THG's medical malpractice capabilities in the Central region.
THG is a leading middle market insurance agency headquartered in Richmond, Virginia, and is a portfolio company of global investment firm, The Carlyle Group.
---
Patriot Growth Insurance Service, The Olson Group
Patriot Growth Insurance Service LLC, a national insurance agency headquartered in Fort Washington, Penn., has added Omaha, Neb.-based The Olson Group to the Patriot platform.
The partnership with Olson strengthens Patriot's existing employee benefits capabilities and further supports the company's strategic geographic expansion.
Olson is a comprehensive employee benefits consulting firm with a focus on retirement planning and group insurance plans. With more than 500 employee benefits programs in place covering more than 20,000 employees, the firm is known for its unparalleled customer service and extensive knowledge of the Affordable Care Act. Olson advises clients on compliance initiatives, wellness plans, risk management strategies, retirement plans and more.
Founded by industry veteran Tim Olson, the firm helps companies navigate the rapidly changing healthcare landscape and improve their bottom line by implementing state-of-the-art employee benefits programs.
CEO Julie Nelson leads a team of 26 professionals with an average of 25 years' experience in the industry working to ensure the best benefit outcomes for individuals and families.
Founded in 2019, Patriot is a growth-focused national insurance services firm that partners with employee benefits and property/ casualty agencies across the United States. It has over 500 professionals operating in 48 locations across 13 states.
---
First MainStreet, EGR Insurance, Warth Insurance, Rominger Insurance
First MainStreet Insurance, a Cedar Rapids, Iowa-based affiliate of TrueNorth Companies, has closed on its acquisition of three new agencies.
The firm expanded to Western Iowa with the merger of EGR Insurance in Moville. A dedicated staff of 10, Pat Rogers and team has been a long-standing predominant player in their region.
FMSI also has merged with Warth Insurance in Burlington, Iowa. Earning the respect of its client base through hard work and dedication, Mark Warth and team has established themselves as a go-to insurance agent in Southeast Iowa.
Continuing FMSI's expansion in Southeast Iowa is the merger of Rominger Insurance in Ottumwa. Tim Hardie and team joined the FMSI platform after agreeing to terms to transition effective March 1.
With the acquisition of these three agencies, FMSI increases its total revenue to over $10 million.
In addition to these new acquisitions, FMSI currently has locations in Bettendorf, Bloomfield, Centerville, Fairfield, Indianola, Iowa Falls, Mason City, Mt. Pleasant, Pella and Perry, Iowa, as well as an office in Brentwood, Tenn.
South Central
First United Insurance, Independent Insurance Group
First United Insurance, headquartered in Durant, Oklahoma, has merged with Dallas-based Independent Insurance Group.
First United Insurance President Howard McClure said the partnership with Independent Insurance Group will give First United the opportunity to continue growing its business in Texas.
Allen Sparks will remain president of Independent Insurance Group once the merger is complete.
First United Insurance currently has offices in Oklahoma City, Tulsa, Durant, Oklahoma, and in Plano, Texas.
Southeast
Hub, Harris, Madden, Powell, Stallings & Brown
Hub International Limited, a global insurance brokerage, has acquired the assets of Harris, Madden, Powell, Stallings & Brown Inc.
HMP is an independent, full-service commercial, surety, employee benefits and personal lines agency in Memphis, Tennessee. HMP focuses on construction, distribution, manufacturing, and healthcare, as well as alternative risk options, which will strengthen and complement Hub's existing capabilities in specialty practices.
Cooper Jones, president of Hub Mid-South, said the acquisition in west Tennessee is an important component of its expansion in Hub Mid-South, which includes operations in Tennessee and Kentucky.
HMP's leadership, Mark Harris, Jay Madden, Rick Powell, Ric Stallings, Keith Brown, Wally Jones, Cooper Permenter and Blake Dickens, as well as all full-time employees, will remain in place at HMP's existing offices in Memphis and Oxford, Miss.
Headquartered in Chicago, Ill., Hub International Limited is a full-service global insurance broker.
West
Alera Group, Fall River Employee Benefits
Alera Group has acquired Fall River Employee Benefits in Denver, Colo.
Fall River joins Alera Group through Benefit Commerce Group, an Alera Group company. The Fall River team will continue serving clients in their current roles.
Fall River is a benefits broker with a focus on self-funding, compliance, and human resources technology.
Based in Deerfield, Ill.-based Alera Group offers employee benefits, property/casualty, retirement services and wealth management.
---
Inszone Insurance, Global Pro Insurance Services
Inszone Insurance Services has acquired Global Pro Insurance Services in Pleasanton, Calif.
Global Pro provides property/casualty insurance services to individual and businesses throughout the Bay Area.
Inszone Insurance Services is a privately held Insurance agency based in Sacramento and is focused on personal and commercial Insurance for both small and large businesses.
Was this article valuable?
Here are more articles you may enjoy.
From This Issue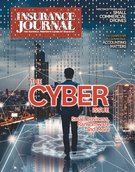 The Cyber Issue; Markets: Aviation & Drones