East
The Hilb Group, D.F. Dwyer & Associates
The Hilb Group LLC has acquired certain assets of Rhode Island-based D. F. Dwyer & Associates LLC. The transaction became effective February 1, 2020.
Based in Newport, R.I., DFD provides a full range of property and casualty insurance products and services to businesses and individuals. DFD Agency Leader Dan Dwyer and his associates will join THG New England's team. DFD will complement and strengthen THG's property and casualty capabilities in the New England region, according to a THG press release.
THG is a middle market insurance agency headquartered in Richmond, Va., and a portfolio company of global investment firm, The Carlyle Group. THG seeks to grow through targeted acquisitions in the middle market insurance brokerage space. The company now has more than 90 offices in 20 states.
Walsh Duffield, OSEA
Walsh Duffield, a fifth-generation, family owned insurance company, has partnered with OSEA Inc., a 30-year-old environmental, health, safety and security consulting firm, to provide risk management services to its commercial insurance clients.
As part of the relationship, OSEA will provide a full array of safety consulting services designed to help reduce accidents, enhance incident response, lower the total cost of risk and address regulatory compliance matters. OSEA's support of Walsh Duffield's clients will include onsite risk managers, safety audits, employee training, industrial hygiene, environmental guidance and litigation support.
OSEA Inc. is a Buffalo, N.Y.-based, global provider of environmental, health, safety and security consulting and technology services. With offices across the East Coast, OSEA has been providing consultative services to construction, manufacturing, pharmaceutical and government entities for more than 30 years.
Walsh Duffield has been offering insurance solutions to individuals and businesses since 1860. Walsh Duffield is headquartered in Buffalo, N.Y., but also maintains offices in Rochester and Medina. It offers a variety of personal and commercial insurance products to clients across the region.
Arthur J. Gallagher & Co., CMS
Arthur J. Gallagher & Co. has acquired Melville, N.Y.-based CMS LLC.
Founded in 1996, CMS LLC is a full-service wholesale insurance broker working with agents across the U.S. The team specializes in placing coverages for construction, importing, wholesaling/distributing, manufacturing and real estate businesses, as well as personal lines.
CMS team members Scott Charney, Rich Verdi, Michael Raab and their associates will continue to operate in their current location under the direction of Steve Levin, Vice President of the Northeast region for Risk Placement Services Inc., a subsidiary of Arthur J. Gallagher & Co.
Arthur J. Gallagher & Co., a global insurance brokerage, risk management and consulting services firm, is headquartered in Rolling Meadows, Ill. The company has operations in 49 countries and offers client service capabilities in more than 150 countries around the world through a network of correspondent brokers and consultants.
Midwest
Marsh & McLennan, Assurance
Marsh subsidiary Marsh & McLennan Agency LLC has acquired Schaumburg, Illinois-based Assurance Holdings Inc.
Founded in 1961, Assurance is a full-service brokerage providing business insurance, employee benefits, private client insurance, and retirement services to businesses and individuals across the country. It ranked 29th on Insurance Journal's list of the Top 100 Independent Agencies in 2019.
Assurance will operate as the Midwest regional headquarters for MMA under the leadership of Anthony Chimino, CEO of Assurance. Chimino will report to David Eslick, chairman and CEO of MMA.
Assurance's 525 colleagues will join MMA and continue to work out of their Schaumburg and Chicago, Illinois, offices.
South Central
Insurance Risk Partners, BRP Group
Oklahoma City-based Insurance Risk Partners (IRP) has entered into a partnership with BRP Group Inc. to become part of its BKS-Partners operating group.
IRP was formed in 2016 by industry veterans Paul and David Brown, and Patrick Truhlar, who have decades of insurance industry experience. The firm's client roster includes domestic and international infrastructure-focused private equity firms and their investment subsidiaries, publicly traded utilities, independent power generation facilities, commodity transportation companies, midstream energy firms, and renewable power generation companies.
BRP Group is an independent insurance distribution firm delivering tailored insurance products and services, and risk management insights. BRP represents more thanis 450,000 clients across the United States and internationally, with approximately 50 offices in seven states.
Woodlands Insurance, Gulfstream's Texas Homeowners Renewal Rights
The Woodlands Insurance Co. (TWICO) has completed a renewal rights agreement with Florida's Gulfstream Property & Casualty Insurance Co. (Gulfstream) to acquire Gulfstream's book of homeowner business in Texas.
The transaction will result in the transfer of approximately $4 million of in-force gross written premium to TWICO. TWICO will begin offering renewal terms for policies falling due for renewal on or after June 1, 2020.
The Woodlands Insurance Co. (TWICO), located in The Woodlands, Texas, is an "A" rated carrier that offers qualifying households an "all-in-one" homeowners policy, which includes flood insurance, home systems protection, service line protection, identity theft, and home cyber protection endorsements.
TWICO is a wholly owned subsidiary of TWFG Holding Company LLC, which includes TWFG Insurance Services LLC, TWFG General Agency LLC and TWFG Premium Finance LLC.
Founded in 2004, Gulfstream, a Sarasota, Fla.-based insurance company, provides homeowners' insurance and related services to customers in Alabama, Florida, Louisiana, South Carolina and Texas.
World Insurance Associates, Insurance Agency
World Insurance Associates LLC (WIA), based in Tinton Falls, New Jersey, has acquired TAB Insurance Agency LLC of Frisco, Texas.
TAB Insurance Agency is a full service, independent insurance agency that offers both personal and commercial insurance in Texas. Upon the closing of the acquisition, TAB owner Terry Bollom and his team have joined WIA.
TAB Insurance Agency is WIA's second location in Texas, joining McMillan Insurance Group of Fort Worth.
WIA is an Insurance Journal Top 100 P/C Agency.
West
Avatar Partners, Centauri
Centauri Specialty Insurance Co. in Hawaii is being acquired by Avatar Partners LP, parent of Avatar Property & Casualty Insurance Co.
Centauri Specialty Insurance Co. is a part of Centauri Specialty Insurance Holdings Inc., a Delaware holding company. It offers a variety of residential and commercial insurance products.
Avatar Property & Casualty Insurance Co. is a Florida company focused on homeowners.
Was this article valuable?
Here are more articles you may enjoy.
From This Issue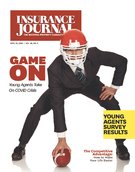 The Young Agents Issue – with Survey Results; Markets: Directors & Officers Liability; Webinar: Cannabis Coverage Update