National
Altamont Capital, Topa Insurance
The deal for Altamont Capital Partners to acquire Topa Insurance Group has been called off.
Last August, Altamont Capital Partners signed an agreement to acquire Calabasas, Calif.-based Topa Insurance Group from its long-time owner, Topa Equities Ltd. While Altamont was to assume majority control, Topa Equities was to maintain a minority equity stake in the business.
The change in plans prompted rating agency AM Best to remove from under review with developing implications and affirm the financial strength rating of A- (Excellent) and the Long-Term Issuer Credit Ratings of "a-" of Topa Insurance Co. and its subsidiary, Dorchester Insurance Co., which is located in the U.S. Virgin Islands.
AM Best called the termination of the deal a "mutual agreement."
Topa and Altamont both confirmed that the deal is off without any further comment or explanation.
Topa wrote $130 million of gross written premium in 2018 that it sold through wholesale brokers and managing general agents. The specialty writer is focused primarily on commercial lines and niche market program business.
Altamont Capital Partners is a private investment firm based in the San Francisco area with more than $2.5 billion of assets under management. Along with Altamont's current investments in Embark General, Kuvare Holdings, and Accelerant Holdings, Topa represents Altamont's seventh platform investment in insurance and insurance services and its 19th overall insurance acquisition.
Topa Equities Ltd. is a private holding company. Headquartered in Los Angeles, the company owns more than 25 subsidiaries with primary locations in Southern California, Hawaii and the U.S. Virgin Islands. Topa has four main lines of business: beverage distribution, automotive retail, insurance and real estate.
---
East
CCG IQ, The UIS Group
CCG IQ, a provider of tech-enabled insurance services, has acquired The UIS Group. CCG IQ anticipates that the addition of this business will enhance its services for insurance companies.
Connecticut-based UIS Group aims to lay the foundation for risk management in commercial insurance lines in its region. With an East Coast presence, UIS Group's areas of focus include experience in commercial surveys as well as workers' compensation, commercial auto and agribusiness, and basic property and casualty lines.
CCG IQ, formerly Consolidated Claims Group, was traditionally in the claims space with its HVAC claims assessment brand, HVAC Investigators, and specialty electronics claim assessment solution, StrikeCheck. San Francisco-based RSI, a company that specializes in underwriting inspections, became part of the CCG IQ group in 2019. The CCQ IQ family of brands includes HVACi, StrikeCheck, JMI Reports, The UIS Group, and Cox & Smith Risk Management. It is headquartered in Charlotte, N.C., with offices nationwide.
World Insurance Associates, Mazzotta Insurance Agency
World Insurance Associates LLC acquired Mazzotta Insurance Agency of Providence, R.I., on March 1, 2020.
Since 1968, Mazzotta Insurance Agency has been a family-run business serving the Providence community, providing protection for homes, autos, rentals and businesses.
WIA is headquartered in Tinton Falls, N.J., and is an insurance brokerage providing asset and lifestyle protection with risk management, insurance and benefit consulting services for individuals and businesses. Since its founding in 2012, WIA has completed 55 acquisitions.
Alera Group, Georgetown Insurance Services
Alera Group, a national employee benefits, property/casualty, retirement services and wealth management firm, has acquired Georgetown Insurance Service Inc.
The Georgetown Insurance team will continue serving clients in their current roles following the acquisition.
Headquartered in Silver Spring, Md., Georgetown Insurance serves clients throughout the state and the surrounding region.
Alera Group has more than 80 firms across the country and nearly 2,000 teammates.
---
Midwest
Berkley Program Specialists, International Excess Program Managers
Berkley Program Specialists has entered into a partnership with Beachwood, Ohio-based International Excess Program Managers, a division of One80 Intermediaries.
IEPM has provided access to a range of insurance products and specializes in property, liability, inland marine, errors and omissions, directors and officers, commercial auto and umbrella coverage since 1998.
IEPM is a countrywide program helping couriers, expeditors, last mile delivery and freight brokers/forwarders address their insurance coverages.
High Street Insurance Partners, Trust Shield Insurance Group, Ken Bleeker Insurance Agency, Gates-Cole Associates
Traverse City, Michigan-based High Street Insurance Partners, has acquired three additional agencies — two in Michigan and one in New York.
These new agency partners are: Trust Shield Insurance Group in Schoolcraft, Michigan; Ken Bleeker Insurance Agency in Martin, Michigan; and Gates-Cole Associates in New Hartford, New York.
Financial details of the transactions were not disclosed.
TSIG operates three offices in West Michigan. In addition to individual customers, TSIG has a client base that includes Michigan-based companies in the energy, landscaping, and agriculture industries.
Bleeker Insurance provides services to clients statewide and specializes in personal and commercial lines of property and casualty insurance, group and individual health coverages, and individual life insurance. Brian Bleeker, president, will remain in his current role.
Gates-Cole Associates is a central New York-based insurance agency with nine offices in the greater Syracuse area. The agency sells property/casualty insurance plans to employers and individuals in New York state. President Bill Cole and Vice President Tom Cole will remain in the business in their current roles.
High Street, one of 15 Huron Capital ExecFactor initiatives, was created to pursue growth through add-on acquisitions in the insurance agency market.
HUB International, The Healy Group
Insurance brokerage HUB International
Limited has acquired the employee benefits division of The Healy Group Inc., based in South Bend, Indiana.
Healy Benefits provides employee benefits solutions, including benefits communications, workplace-wellness plans and risk management seminars.
Owners and risk management advisors, Tony Nyers and Chris Rowland, and Alicia Webber, benefits advisor, along with their staff will be joining Hub Midwest East.
---
South Central
Western Security Surplus, Houston Surplus Lines
Western Security Surplus, part of the XPT Group, has acquired Texas-based Houston Surplus Lines.
HSL is an excess and surplus lines general agency founded in 1994 and is currently managed by Barbara Partlow and Carol Gardner. HSL has binding authority contracts with some of the best A rated surplus lines carriers, along with a list of brokerage markets for the harder to place risks.
WSS is headquartered in Plano, Texas, with employees also located in California.
Higginbotham, Amerman Insurance Services
Fort Worth-based independent insurance broker, Higginbotham, and Amerman Insurance Services, based in San Antonio, Texas, have merged. The union adds eight commercial and personal property/casualty insurance and employee benefit professionals to Higginbotham's existing San Antonio office for a combined 38-person group.
Higginbotham named Amerman Insurance President Matt Amerman a managing director. He will continue leading his namesake agency with existing staff in partnership with Drew Apperson, managing director of Higginbotham in San Antonio.
Matt Amerman established the agency in 2010 to meet the insurance needs of San Antonio's businesses and families.
In addition to Texas, Higginbotham has offices in Oklahoma, Georgia and California.
Topics California Texas New York Michigan
Was this article valuable?
Here are more articles you may enjoy.
From This Issue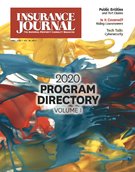 Programs Directory, Volume I; Market: Public Entities & Schools; Special Supplement: The Florida Issue; Webinar: Workers' Comp: Changes & Challenges