National
Ryan Specialty Group, All Risks
Two of the largest property/casualty insurance wholesalers are looking to merge.
The deal will unite Chicago-based Ryan Specialty Group and its nearly $12 billion in premium, and All Risks, headquartered in Delray Beach, Florida, which has close to $2.6 billion in premium.
Both brokers have national footprints, while RSG also does business in Europe. Both have track records in wholesale distribution and managed underwriting businesses in the form of managing general underwriters, programs and delegated binding authorities.
Ryan said All Risks executives Nick Cortezi, CEO, and Matt Nichols, president, will continue in senior executive roles in the merged firm.
Only AmWINS and CRC Insurance Services are larger than RSG and All Risks in the wholesale brokerage space.
---
East
Hub International Limited, Lashua-LaChance & Poliks Insurance Agency
Hub International Limited, a global insurance brokerage, has acquired the assets of Lashua-LaChance & Poliks Insurance Agency Inc.
Located in Gardner, Mass., Lashua-LaChance is a locally owned, independent insurance agency that provides personal and business insurance solutions in New England. Peter Lashua, co-owner of Lashua-LaChance, will join Hub New England and report to Timm Marini, president of Western New England.
---
Midwest
Norman-Spencer Agency, Intercorp
Norman-Spencer Agency LLC, a Dayton, Ohio-based program administrator and wholesale brokerage, has acquired the business assets of Intercorp Inc.
Norman-Spencer acquired the real estate division from Intercorp in an effort to continue to grow and strengthen its real estate professional programs.
Intercorp is based in Ephrata, Penn., and is a national insurance program management firm that manages insurance programs and operates as a wholesale broker in the professional and environmental liability fields. Led by Principal Owner Elaine Matternas, the firm will continue to manage professional liability insurance programs for appraisal firms and appraisal management companies as a division of Norman-Spencer.
---
South Central
Higginbotham, Amerman Insurance Services
Independent insurance broker, Higginbotham, and Amerman Insurance Services, based in San Antonio, Texas, have merged operations, the companies said.
The union adds eight commercial and personal property/casualty insurance and employee benefit professionals to Higginbotham's existing San Antonio office for a combined 38-person group.
Higginbotham named Amerman Insurance President Matt Amerman a managing director. He will continue leading his namesake agency with existing staff in close partnership with Drew Apperson, managing director of Higginbotham in San Antonio, to operate as a collaborative team. They will combine office spaces in San Antonio in the coming year.
Higginbotham is based in Fort Worth and has more than 40 additional offices statewide, as well as in Oklahoma, Georgia and California.
---
Southeast
Trinity Benefit Advisors, BKS-Partners Operating Group
Knoxville-based Trinity Benefit Advisors has entered a partnership with BRP Group Inc. to become part of its BKS-Partners operating group.
TBA is a provider of employee benefits to employers across the southeastern U.S., with a significant book of large account life and health business.
BRP Group Inc. is an independent insurance distribution firm with approximately 50 offices in seven states.
---
West
LP Insurance Services, Meridian Insurance Services
LP Insurance Services LLC has acquired Meridian Insurance Services in Nevada.
As a result of the acquisition, Karen Wagner, former head of sales and service operations for Meridian, has been named executive vice president of the Southwest region of LP Insurance. The region includes Phoenix, Las Vegas and the new Roswell, N.M., office. Wagner will lead the sales, service and operations efforts in those offices. Meridian is an independent insurance agency offering commercial, employee benefits, personal and risk services in the Carson City, Nev., and Roswell, N.M., areas. LP Insurance Services is a risk management and commercial insurance brokerage firm headquartered in Reno, Nev.
Was this article valuable?
Here are more articles you may enjoy.
From This Issue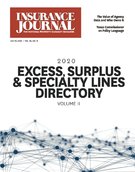 Data & Analytics; Excess, Surplus & Specialty Markets Directory, Volume II; Special Supplement: The Florida Issue