National
Aon, Wills Towers Watson
Shareholders of insurance brokers Aon and Willis Towers Watson have approved all of the proposals necessary to complete their previously announced combination, the firms announced.
Aon intends to combine with Willis in an all-stock deal valued at about $30 billion that is expected to be completed in the first half of 2021, subject to regulatory approvals. The deal has an implied combined equity value of approximately $80 billion.
Under the terms of the proposed deal, Aon's shareholders will own 63% and WTW shareholders will own 37% of the combined company. Willis Towers Watson shareholders will receive 1.08 Aon shares in exchange for each Willis Towers Watson share they held immediately prior to the closing.
The deal and terms were first announced on March 9.
Aon and Willis are the second- and third-largest insurance brokers by revenue. If the deal is approved, the combined company, named Aon, will have more than $20 billion in revenue. Aon reported $11 billion in revenue with $2.2 billion net income for 2019 compared to $9 billion revenue and $1.4 billion net income for Willis Towers Watson.
Aon will maintain operating headquarters in London, United Kingdom. The parent company will be incorporated in Ireland. The combined firm will have 95,000 employees globally, with a "significant presence" in Chicago, New York and Singapore.
The combined firm will be led by Aon CEO Greg Case and Aon Chief Financial Officer Christa Davies. The board of directors will comprise proportional members from Aon and Willis Towers Watson's current directors.
Willis Towers Watson CEO John Haley will take on the role of executive chairman with a focus on growth and innovation strategy.
---
East
AHT Insurance, Mason & Mason Insurance
AHT Insurance has acquired Mason & Mason Insurance.
Mason's offices in Whitman, Mass., located near Boston, and North Conway, N.H., will become AHT's eighth and ninth locations nationally.
Mason's staff of insurance professionals will join forces with AHT's professionals following the acquisition. This acquisition marks AHT's second over the past two years, having acquired Saul and Associates in 2018.
For more than 40 years, Mason has brokered property and casualty insurance programs to fit the needs of businesses and individuals, with an emphasis on niche businesses. Mason is a provider of risk management and insurance brokerage services for venture capital, technology and life science firms. The company is also a provider of insurance to custom home builders and remodelers in Massachusetts and the managing agent for Builders and Remodelers Association of Massachusetts' sponsored insurance program.
AHT Insurance is a brokerage and consulting firm offering property and casualty, employee benefits, retirement, personal and international services for a range of industries
Starkweather & Shepley Insurance Brokerage, Newport Insurance Agency
Starkweather & Shepley Insurance Brokerage Inc. has acquired Newport Insurance Agency Inc.
Located in Middletown, R.I., with 13 associates on staff, Newport Insurance is an independent agency serving commercial and personal lines clients throughout southern New England.
Newport Insurance, now a division of Starkweather & Shepley, will continue to service clients from its Middletown, R.I., location following the acquisition.
Established in 1879, Starkweather & Shepley is an independent agency in Rhode Island. The firm provides commercial and personal insurance, health and employee benefits, surety bonding and risk management services nationally and internationally through its partnership with Assurex Global.
ENV Insurance Agency, AssuredPartners
ENV Insurance Agency LLC of Liverpool, N.Y., has joined AssuredPartners Inc.
The team of 26 will remain under the operational leadership of Ed Vaughn and Terry Engels. The agency currently reports $7.5 million in annualized revenues.
Headquartered in Lake Mary, Fla., and led by Jim Henderson and Tom Riley, AssuredPartners acquires and invests in insurance brokerage businesses in the property and casualty, employee benefits, surety and managing general underwriter space across the U.S. and in England.
---
Midwest
High Street, Capital Insurance Group
High Street Insurance Partners, a portfolio company of the private equity firm Huron Capital, has acquired Capital Insurance Group, headquartered in Bloomfield, Mich.
CIG primarily sells commercial insurance programs throughout Michigan. The company's customer base spans industries that include engineering firms, waste and recycling, utilities and other industrial and municipal services. The acquisition of CIG is Huron Capital's 200th since its inception in 1999.
Traverse City, Michigan-based High Street, an ExecFactor platform formed in August 2018 to build a full-service insurance brokerage business, has completed 13 acquisitions since its formation.
Based in Detroit, Huron Capital is an operationally focused private equity firm with a history of growing lower middle-market companies through its ExecFactor buy-and-build investment model. Huron Capital's sector focus includes business services, consumer products and services and specialty industrials.
Branch Insurance Exchange
Columbus, Ohio-headquartered personal lines insurance startup Branch has launched the Branch Insurance Exchange that it says will reduce the cost for its members. Branch formerly operated as a managing general agency,
Branch bundles home and auto insurance, requiring only a name and address to get a bindable price in seconds. Branch says its reciprocal exchange is the first launched in Ohio in 75 years. The Branch Insurance Exchange is owned by its members and managed by Branch for a fixed 5% fee. Clients agree to become a member of the Exchange when they purchase a policy with Branch.
Branch plans to return unused funds to members through vesting dividends.
It was founded in 2018 by former Allstate and Esurance executive Steve Lekas and tech entrepreneur Joe Emison.
Risk Strategies, McCamon Hunt Insurance Agency
Risk Strategies, a privately held national insurance brokerage and risk management firm, has acquired Boardman, Ohio-based McCamon Hunt Insurance Agency Inc.
McCamon Hunt adds to Risk Strategies' existing footprint in Ohio. Founded in 1996 through a merger, McCamon Hunt traces its roots to 1939.
The all lines agency's offerings span group health, commercial package, life insurance and personal lines. Its business segment clients include contractors, distributors, real estate and engineering firms.
With many of its employees possessing almost two decades of experience in the industry and an average tenure of 17 years, McCamon Hunt offers its clients both stability and depth of expertise in its service.
In Ohio, Risk Strategies established its transportation practice with the 2017 acquisition of Cleveland-based Brightstone Insurance Services, a specialist in same-day delivery, courier, warehouse and logistics companies.
In 2018, it added to its employee benefits practice with the acquisition of Cincinnati-based Benefits Network Insurance Agency.
Risk Strategies has offices in more than 70 locations nationwide including Boston, New York City, Chicago, Minneapolis, Miami, Atlanta, Houston, Dallas, Nashville, Los Angeles and San Francisco.
---
Southeast
The Upton Group, Acrisure
The Upton Group has entered into a partnership with global insurance broker Acrisure, which will enable The Upton Group to build insurance and risk management services for franchise business clients, with a special emphasis in pizza and food courier delivery.
Acrisure offers insurance and risk management services and products through a global network of agency partners. As a majority employee-owned private company, the Acrisure model allows agency partners to maintain autonomy and offers tools and resources.
According to Jason Upton, principal and founder, the partnership enhances its ability to provide additional options to clients and prospects going forward while maintaining its culture and business operations.
The Upton Group is a retail agency based in Guntersville, Ala. The firm specializes in pizza and food delivery insurance and risk management in all 50 states.
Jason Upton, principal and founder spent 23 years with Domino's, with 17 years as an owner/franchisee and formed The Upton Group in 2010.
The Upton Group is a full service provider for all lines of insurance including property, general liability, hired and non-owned auto, business owned auto, workers' comp, umbrella and excess along with small and large group health insurance and limited indemnity plans specially developed for pizzeria and franchise workers.
Johnson & Johnson, National Program Management
Johnson & Johnson will expand its presence in Georgia by acquiring the assets of National Program Management located in Alpharetta. The parties expect the transaction to close Sept. 1, 2020.
National Program Management's origins date back to the mid-1980s. The company was formed as a wholesale broker specializing in environmental property and casualty insurance. In 2014, NPM acquired the assets of the Leverett Insurance Group Inc., formed in 1985 as a full-service wholesale brokerage firm. That acquisition expanded NPM's brokerage capabilities to include energy, transportation, real estate, manufacturing, retail, construction, non-profits and professional service firms.
Johnson & Johnson is a fourth generation, family owned managing general agency based in Charleston, South Carolina.
According to Scott Lewis, general manager of NPM, the move strengthens its agent relationships through expanded products and services.
Founded in 1930, Johnson & Johnson is a full-service managing general agency that provides excess and surplus markets, standard markets and premium financing to independent insurance agents within Alabama, Connecticut, Delaware, Florida, Georgia, Louisiana, Maine, Maryland, Massachusetts, Mississippi, New Hampshire, New Jersey, New York, North Carolina, Pennsylvania, Rhode Island, South Carolina, Tennessee, Vermont and Virginia. In addition, Johnson & Johnson offers private flood and certain program business nationwide.
Was this article valuable?
Here are more articles you may enjoy.
From This Issue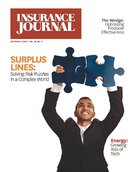 Surplus Lines: Wholesale & Specialty Insurance Association Annual Marketplace; Market: Energy